When Your World Falls Apart
Mike MacIntosh
Friday, January 24, 2003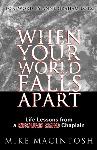 But may the God of all grace, who called us to His eternal glory by Christ Jesus, after you have suffered a while, perfect, establish, strengthen, and settle you - 1 Peter 5:10
The air was filled with the noxious smell of death. It was near midnight, and the New York streets that once glowed with streetlights and light from adjacent office buildings were canyons of darkness with no street lamps and office building windows black and vacant.  Once inside the barricades and past the security checkpoints, even first-time visitors know they are about to encounter something monstrously unpleasant.


It was only a few days after two planes tore into the twin towers of the World Trade Center. Several blocks from Ground Zero, we could see the sun-brilliant lights of the emergency systems. They lit an area of devastation that, these many months later, I'm still not fully able to comprehend. I am not sure the human mind was ever designed to absorb, to totally grasp, destruction like this.

Mounds of twisted, angry rubble, acres of it, burning and hissing at so many levels, with fire hoses hammering it with rivers of water trying to cool the steel girders and debris, while hundreds of Fire Department New York (FDNY) personnel climbed over the pile in a desperate search for survivors.
When Walls Fall Down
It was still called a rescue effort. In a matter of days it would reluctantly turn to recovery, but for now, they still hoped to find people alive somewhere in the rubble. But regardless of what they called it, every second that ticked by, the men and women who responded to this disaster would have their lives changed forever.
     
The fire and water produced a mix of steam and smoke that clouded the New York air for miles around, and with those brilliant lights shining through it, it brought to those canyons of darkness a sense of eeriness, a haunting surrealism. NYPD detective Carlos Aviles and I were walking down one of those canyons and were still a couple blocks from the scene when we saw two firemen coming towards us. With that ghostly light still behind them, they were only dark silhouettes, but even so, we could see that they walked with deliberate, plodding steps - as if in shock, as if they were soldiers emerging from a war zone.


As we drew closer, we saw that their stern, stoic faces were streaked gray with dirt and sweat. We heard their deep coughs as they hacked and spit the hours of dust and death from their lungs. Their heavy jackets were thrown over their shoulders and their protective helmets, looking like nothing on earth could dislodge them, covered their heads displaying FDNY, their battered but proud badge of honor. They would stop now and again and press the respirator air mask to their faces and breathe deeply, seeking any relief they could find. To me, at least, it looked like no two men on this earth deserved rest more.

Yet none of this scene was new. I'd seen it so many times before.

However, our brief conversation with them was something new and unusual.

We walked up to them and I said, as I had to so many others, "Just want to let you know how much we appreciate what you're doing. How are you guys holding up?"
Recently on Spiritual Life
Have something to say about this article? Leave your comment via Facebook below!
advertise with us
Example: "Gen 1:1" "John 3" "Moses" "trust"
Advanced Search
Listen to Your Favorite Pastors