Why Be Joyous, 5: Safely Shielded by God's Power
Eva Marie Everson
Thursday, July 03, 2003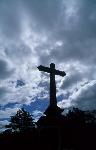 The Talmud-the Jewish book of instruction and tradition-states the following: The Holy Spirit rests only on one who has a joyous heart.

I can't say I believe that entirely. I believe God's Holy Spirit, His comforting Presence, dwells with us no matter the circumstance. I've felt His hand upon me during my most ecstatic moments and have certainly been aware of it when I felt as though the world were falling apart.

The future king of Israel, David-having been rescued from the killing hands of a man he loved like a father, King Saul-penned these words:

I love you, O LORD, my strength.
The LORD is my rock, my fortress and my deliverer;
my God is my rock, in whom I take refuge.
He is my shield and the horn of my salvation, my stronghold.
I call to the LORD, who is worthy of praise,
and I am saved from my enemies.


The cords of death entangled me;
the torrents of destruction overwhelmed me.
The cords of the grave coiled around me;
the snares of death confronted me.
In my distress I called to the LORD;
I cried to my God for help.
From his temple he heard my voice;
my cry came before him, into his ears. ~~Psalm 18:1-6

David's first words, though life seemed to offer him anything but reasons to rejoice, were in praise, love, and adoration to his God.

The name David used for Lord in verse one is Jehovah...David's All-in-all. His very reason to be joyous.

A Look Back At Parts One through Four

We began this series by looking at a verse of Scripture from 1 Peter, which reads:

"In this you greatly rejoice, though now for a little while you may have had to suffer grief in all kinds of trials. These have come so that your faith--of greater worth than gold, which perishes even though refined by fire--may be proved genuine and may result in praise, glory and honor when Jesus Christ is revealed." (1 Peter 1:6b, 7)

The question raised was: In what do we rejoice?

By looking back at verses 3-6a we discovered we can rejoice because:
 
1) We have new birth into a living hope.
2) We have an inheritance that can never perish, spoil, or fade-kept in heaven just for us.
3) We serve a God of mercy.
4) We have been given the precious gift of faith, which when tended properly, grows like a lush garden.

In What Else Do We Rejoice?

After Peter writes "who through faith..." he continues with "are shielded by God's power."

Have you ever ridden a motorcycle? They're fun, giving one a feeling of being truly alive and free. You feel the wind as you force yourself against time and space. Maybe you even get a few bugs in your teeth (gnats taste sweet, don't they?) or tangles in that part of your hair, which-if long enough-hangs out from below the rim of the helmet. If the weather is warm you sense its heat. If the weather is cold, you feel a chill in your bones. Either way, you feel the ride.

I enjoy motorcycle rides. (I called them cycle biking.) I remember dating a young fellow back in high school who picked me up on his cyclebike, drove to the nearest service station, put a whole quarter's worth of gas in the tank, and away we went! I also remember the day another young fellow called and asked if I wanted to "go for a ride" on that beautiful Sunday afternoon. I was way behind on a school report so I declined, but suggested he call my neighbor and friend. He did, they went, and when a dog ran out in front of them, they hit the road doing about 45.

I visited them that evening in the hospital.

That's the thing about cyclebikes. If you wreck, there's nothing between you and the brutal, unyielding road. Not like with a car, with its steel reinforcements, air bags, etc. And, of course, the bigger the car, the less chance of getting mangled along the way.

Recently on Spiritual Life
Have something to say about this article? Leave your comment via Facebook below!
advertise with us
Example: "Gen 1:1" "John 3" "Moses" "trust"
Advanced Search
Listen to Your Favorite Pastors