Why Jesus Compared Unforgiveness To the Sycamine Tree
Rick Renner, Rick Renner Ministries
Thursday, October 27, 2011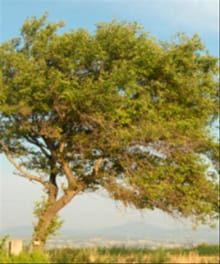 No wonder Jesus used this tree as an example of bitterness and unforgiveness! Like the sycamine tree, bitterness and unforgiveness must be dealt with clear to the roots, or they will keep springing up again and again. The roots of bitterness and unforgiveness go down deep into the human soul, fed by any offense that lies hidden in the soil of the heart. That hidden source of offense will cause these evil forces to resurface in a person's life over and over again. It will take a serious deci­sion for that person to rip those roots of bitterness and offense out of his heart once and for all so they can't grow back in the future.
2. The sycamine tree's wood was the preferred wood for building caskets.
In Egypt and the Middle East, the sycamine tree was considered to be the preferred wood for building caskets and coffins. It grew quickly and in nearly any environment, making it accessible in many different places. It also grew best in dry conditions - the kind of conditions for which the Middle East is famous. These are two reasons sycamine wood was used in so many places for building caskets and coffins.
Again, we can see why this illustration of the sycamine tree is so ideal for portraying bitterness and unforgiveness. Just as the sycamine tree grew very quickly, so does bitterness and unforgiveness. In fact, it doesn't take too long at all for these evil forces to get out of control and start taking over the whole place! When these fast-growing and ugly attitudes are allowed to grow freely, they not only spoil the condition of your own heart, but they ruin your relationships with other people.
Also, just as the sycamine tree grew easily in every environment, so does bitterness. It doesn't matter where people are from, where they live, what kind of cultural background they grew up in, or what level of society they belong to - bitterness and unforgiveness grow in human hearts every­where, for they are universal in their scope of evil influence.
The sycamine tree grew best where little rain fell and water was sparse. Isn't this just like bit­terness and unforgiveness? These negative attitudes flourish where spiritually dry conditions exist. You can almost count on finding bitterness and unforgiveness growing and blossoming where there is no repentance, no joy, and no fresh rain of the Spirit.
And don't forget that sycamine wood was the preferred wood for building caskets and coffins. What a powerful message this is! It tells us that bitterness and unforgiveness are deadly. Harboring bitterness will spiritually bury you more quickly than anything else! These attitudes are the materials that Satan uses to put you six feet underground!
Let me stress this point to you because it's so important: If you permit bitterness and unforgive­ness to grow in your life, it won't be long until these attitudes have killed your joy, stolen your peace, and canceled out your spiritual life!
3. The sycamine tree produced a fig that was very bitter to eat.
The sycamine tree and the mulberry tree were very similar in appearance; the two trees even produced a fruit that looked identical. However, the fruit of the sycamine tree was extremely bitter. Its fruit looked just as luscious and delicious as a mulberry fig. But when a person tasted the fruit of the sycamine fig, he discovered that it was horribly bitter.
Mulberry figs were delicious and therefore expensive. Because of the cost of this fruit, it was primarily eaten by wealthier people. But the sycamine fig was cheap and therefore affordable to poorer people. Because the poor couldn't afford the luscious mulberry fig, they munched on the sycamine fig as a substitute.
However, the sycamine fig was so bitter that it couldn't be eaten whole. In order to consume an entire sycamine fig, the eater had to nibble on it a little bit at a time. After a pause, the eater would return to nibble on it again, but he could never devour a entire piece of this fruit at one time; it was just too tart and pungent to eat at one sitting.
Recently on Spiritual Life
Have something to say about this article? Leave your comment via Facebook below!
advertise with us
Example: "Gen 1:1" "John 3" "Moses" "trust"
Advanced Search
Listen to Your Favorite Pastors