Your Favorite Faith Articles of 2006
Shawn McEvoy, Crosswalk Faith Editor
Friday, December 29, 2006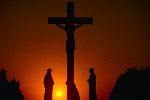 It's always interesting to me what will inspire people. I'm never not surprised. One of the reasons I love my job is that I not only get to play a part in bringing Bible-based encouragement to millions of users, I also get to peek at the numbers that tell me which ones got to you guys such that you forwarded them to friends and linked to them from your own sites.
If there's a theme in which Faith pieces made their way around the cyberworld the most this year, I'd have to say it was Timeliness - something which the Lord can only have His hand in. When we first ran articles like "God Still Answers Prayers" and "How to Witness to a Jehovah's Witness" I knew they were good, but I didn't expect to see such huge pageview totals. I can only conclude that each of these pieces struck a chord at just the right time in the lives of so many Christians. Here's hoping they'll do that again upon second glance.
These are the 10 articles you clicked on most in 2006.
10)  God Walks with You through the Valleys  
Author: Whitney Hopler
Date: April 25
Abstract: Whitney Hopler is a contributing writer to Crosswalk who specializes in practical adaptations gleaned from recent Christian books. These how-to-like "Live It!" articles are always very popular. In fact, two of them made this list. This article was adapted from Ernest L. Easley's Through the Valleys.
Key Quote: We walk through many low places in life - the Valleys of Sickness, Correction, Confusion, Discouragement, Storms, Suffering, and Fear to name a few. "Life is tough in the valleys. Still, there are valuable lessons we can learn in the valleys that we could never learn if we stayed on the mountaintops. If you find yourself walking through a valley right now, let God teach you as He walks alongside you. Here's how you can find victory in the valleys."
9)  What's Up with Halloween?  
Author: Jim Liebelt, HomeWord
Date: October 18
Abstract: Even if it's under the clever name of "Harvest Festival," churches throughout our country nonetheless use Halloween as a means for outreach to the community. So what's the deal?
Key Quote: "There is no doubt that Halloween's origins can be traced to pagan beliefs and rituals. Satanic groups have also attached meaning to Halloween, celebrating it as a special holiday. These origins and meanings can be researched pretty easily on the Internet. Christians of good conscience differ on their views of whether or not believers should have any participation in Halloween celebrations. Certainly, Christians should not participate in the "dark side" of Halloween – to in any way approve of the satanic, or the focus on paganism, evil, death, etc. Yet, the reality of Halloween participation for many - believers and unbelievers alike - is that of exercising a bit of fantasy, dressing up in costumes and having fun trick-or-treating around the neighborhood. To many, this is what Halloween is about, without any connection to occult or pagan practices. I have a hard time saying that there is anything wrong with this. Let me give an illustration: We know the source and heritage of Christmas. We also know that for many people, Christmas is a very non-religious holiday. People give Christmas their own meaning, regardless of its origins. We would never say that everyone who celebrates Christmas is a follower of Christ or honors God. Halloween, I believe, is similar. People give Halloween their own meaning, regardless of its origins. Consequently, just because people participate in Halloween does not necessarily mean they are promoting or encouraging occult or pagan practices and beliefs."
Recently on Spiritual Life
Have something to say about this article? Leave your comment via Facebook below!
advertise with us
Example: "Gen 1:1" "John 3" "Moses" "trust"
Advanced Search
Listen to Your Favorite Pastors