Your Favorite Faith Articles of 2006
Shawn McEvoy, Crosswalk Faith Editor
Friday, December 29, 2006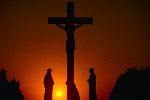 8)  God Still Answers Prayers  
Author: Betsy St. Amant
Date: September 29
Abstract: Nothing jumpstarts your faith like an answered prayer.
Key Quote: "I can share firsthand that God is still in the business of performing miracles. Just last weekend, I received an answered prayer in a way that only God could accomplish. He heard my plea, but not only did He see fit to answer with me a resounding 'Yes!,' He went above and beyond what my meager faith could scrape up and really showed off in a burst of glory, leaving me in awe with my mouth hanging wide open and tears pouring from my eyes as I marveled in the wonder and love of my Heavenly Father. God still answers prayers."
7)  Is 'Seeker-Sense' Just Nonsense?  
Author: Shawn McEvoy, Crosswalk Faith Editor
Date: February 10
Abstract: Will growing a church's numbers by tickling a few ears, singing catchy tunes, and avoiding Bible passages the World doesn't like yield us, through sheer numbers, enough of a crop of committed disciples to get the Lord's work done? Or will a church grow if the Christians in it are fed Biblical meat, trained to evangelize, and leave sermons feeling challenged?
Key Quote: "The mandate seems clear; preaching the Word of God without compromise is the primary duty of any believing body that gathers together. Perhaps that's oversimplifying if not done with all-out-surrender. But if that ideal is geared so to equip Christians to evangelize and minister out in the world, we must honestly ask ourselves why we're missing so many who are lost and yet seeking a spiritual path."
6)  When Pastors Fail to Practice what they Preach  
Author: Ray Pritchard, Keep Believing Ministries
Date: November 7
Abstract: Prior to the revelations concerning Teg Haggard, Ray Pritchard received an email from a woman distraught about repeated pastoral problems in her local church. Her words speak for multitudes who have been disappointed with their spiritual leaders.
Key Quote: "We should not be totally surprised when our leaders fail us. We all fail to one degree or another, and some of us fail miserably and repeatedly. We all have feet of clay. That said, we must continue to hold our leaders to the high standards set in 1 Timothy 3 and Titus 1. Paul summed it up when he said that a spiritual leader must be 'above reproach.' The Greek word describes a garment without any folds. When applied to personal character, it means that leader must be free from any secret or hidden pockets of sin. Said another way, it means that a godly leader has nothing hidden because there is nothing to hide. The Living Bible uses the phrase, 'a good man whose life cannot be spoken against.' Knox says, 'one with whom no fault can be found.' It means that no charge could be brought against such a person that would withstand impartial examination. Leaders are often attacked, their motives questioned, their actions criticized. While such things do happen, a leader who is truly above reproach will weather the storm because there is nothing about him which a person could say, 'Aha! I gotcha.' This means no questionable conduct, no secret sins, no deliberately unresolved conflicts."
5)  Don't Waste Your Cancer  
Author: John Piper, Desiring God Ministries
Date: March 15
Abstract: Writing on the eve of prostate surgery, Piper, who believes in God's power to heal—by miracle and by medicine, and believes it is right and good to pray for both kinds of healing. lists 10 ways that those afflicted with cancer often cause their ailment to become pointless.
Recently on Spiritual Life
Have something to say about this article? Leave your comment via Facebook below!
advertise with us
Example: "Gen 1:1" "John 3" "Moses" "trust"
Advanced Search
Listen to Your Favorite Pastors