A Biblical View of Feminine Beauty
Carolyn Mahaney and Nicole Whitacre, Contributors
Tuesday, March 30, 2010

To the women of this first century church, Paul writes to warn them against imitating the dress and adornment of the ladies of the Roman court and the prostitutes. These women were known for their extremely expensive, showy clothes and ridiculously elaborate hairstyles. They dressed, not only to attract attention, but to seduce as well. Paul does not want the women of the church to dress in this manner and thus be a distraction during the church service, or at any other time.
What he is condemning is not attractive attire, but the association with worldly and ungodly values. Women who profess godliness, he says, should not dress in such a way that resembles those who are extravagant, or worse, intent on being seductive or sexy. Simply put, we are not to identify with our sinful, worldly culture through our dress.
So, the question for us is this: Who are we seeking to imitate or be like in our dress? Who inspires our wardrobe? Are we preoccupied with looking like the latest American Idol winner or the actresses and music stars on magazine covers, or the immodest woman next door?
A while back, I saw a few minutes of one of the innumerable makeover stories on television (I'm surprised we haven't all been "made over" by now!). Two women were going to receive a new look. One of them wanted to look exactly like Jennifer Anniston, and the other like Jennifer Garner as I recall. These two ladies (who, I'm sorry to say, didn't look a bit like the actresses they so admired) were just gushing about how much they admired everything about these glamorous stars—their style, their way of walking, their clothing, their hair. It might have been comical if it wasn't so sad.
Most of us are not trying to look exactly like a famous actress—we know it's a lost cause! However, if we are seeking to imitate the sexually enticing clothing of the women in our culture, we are no different than these two wannabes. That is why Paul's message is urgent—not just for the original recipients of his letter, but for us today. He doesn't want the women in the church looking exactly like the ungodly, seductive women in the world.
Women in the church are to be different from the world. We should be stand-outs—not because of our revealing clothing, but because of our distinctly modest heart and dress.
Originally posted April 10, 2001
---
This article was adapted from "Girl Talk" - a
blog
kept by Carolyn and her three daughters for women in all seasons of life.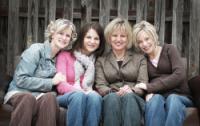 Carolyn Mahaney is a wife, mother, homemaker, and the author of Feminine Appeal: Seven Virtues of a Godly Wife and Mother, Girl Talk: Mother-Daughter Conversations on Biblical Womanhood and Shopping for Time: How To Do It All and Not Be Overwhelmed (written with her daughters). During her more than 30 years as a pastor's wife, Carolyn has spoken to women in many churches and conferences, including those of Sovereign Grace Ministries, which her husband, C.J., leads. C.J. and Carolyn have three married daughters and one sixteen-year-old son, Chad.
Nicole Whitacre is the oldest daughter of C.J. and Carolyn Mahaney, as well as a wife, mother, and homemaker. She assisted her mother with Feminine Appeal, and is the senior writer for Girl Talk. Nicole and her husband Steve—who is a youth pastor at Sovereign Grace Church—have a son Jack, age 6, and a daughter Tori, age 2.
Kristin Chesemore and her husband Brian are the busy parents of three boys. Andrew is 9, Liam is 6, and Owen is 5. In the little spare time she does have, Kristin supports Brian in his role as a Married Life pastor at Covenant Life Church.
Janelle Bradshaw has been married to her husband Mike, and they have beautiful daughters Caly, age 3 and MJ, 8 months. Mike serves as Pastor of Children's Ministry at Covenant Life Church.
Pictured above, left-right: Janelle, Kristin, Carolyn, and Nicole
Have something to say about this article? Leave your comment via Facebook below!
advertise with us
Example: "Gen 1:1" "John 3" "Moses" "trust"
Advanced Search
Listen to Your Favorite Pastors