A Love Letter to My Body
Lauren Dubinsky, Founder, Good Women Project
Friday, July 20, 2012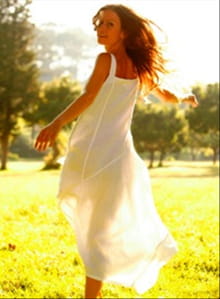 I'm sorry, butt, for all the jokes that my parents made about you, and that I accepted them as the truth. I did learn to like you for the last couple years, but this year, it's been really difficult again. I twist and try to see you in the mirror every day, and I'm sorry for wishing that one morning you'd just be less.
I'm sorry, tummy, for comparing you to photoshop every single day. It's just so hard, you know? Maybe you don't. It really gets me down every morning. But I promise, I'm trying. I try to remember that one day, you'll make a baby in there, all by yourself. That's so beautiful. I'm trying to remember it.
I'm sorry, breasts, for all the things i've thought about you, that I won't repeat again.
I'm sorry, back, for wishing you were better so that I could show you off in those sexy dresses.
I'm sorry, arms, for never getting all those beautiful tattoos I wanted years ago because I thought you were fat, and didn't want to draw extra attention to you.
I'm sorry, lips, for spending so much money on lip gloss with chemicals that would change you. My husband tells me now that he thinks you're perfect, and I promise to agree from now on. You really are.
I'm sorry, nose, for despising you since I was so little. I read once that every single woman hates her nose, and it must really suck to be you. I'm really going to work on it.
I'm sorry, eyes, for wishing you were brown my entire life. I don't know where I got the idea that women with brown eyes are prettier, but you're so beautiful. I want to let you be that.
Dear Everything. I'm so sorry that I have never been grateful.
You've done every single thing I've ever asked of you – except that one awful 10 mile hike – and I've never once said thank you. I only looked at you with disdain and asked why you couldn't have looked better doing it.
And so, dear everything. Dear body. Dear self. Dear cells that are more countless than the stars in the sky, who give flesh and bone to my soul, I love you.
Even now, while I'm sad, while I sit here judging you, hating you, being disappointed by you – know that I've finally realized it isn't you. It's me.
And I promise to begin to change that.
Promise. Cross my heart, hope to die.
Because we will one day, together, and I want to have lived having loved you.
Lauren Nicole Dubinsky loves art, writing, photography, and her husband. She has made it a personal goal to encourage, inspire, and provide resources for women. She founded and maintains the good women project and writes & creates here, at her own site. Follow her on twitter or facebook.
Publication date: July 20, 2012
Have something to say about this article? Leave your comment via Facebook below!
advertise with us
Example: "Gen 1:1" "John 3" "Moses" "trust"
Advanced Search
Listen to Your Favorite Pastors