Are You a Thermostat or Thermometer?
April Motl, Crosswalk.com Contributor
Thursday, August 09, 2012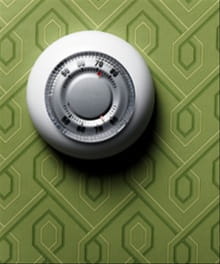 Are you a thermometer or a thermostat?
It's an old question posed by a much wiser woman than me. But her question still challenges me year after year.
"Thermometers" are women who only know how to reflect what's going on around them, while "thermostats" are women who help keep the climate around them at an even keel regardless of the circumstances. A maturing walk with God will lead us more and more to be influencers of the world around us, instead of being merely influenced by it.
Here are some of God's instructions that show us how we ought to set tones in a circumstance, rather than merely react in kind to it:
Even though you've been hurt or offended -
"But I say to you who hear, love your enemies, do good to those who hate you, bless those who curse you, pray for those who mistreat you. Whoever hits you on the cheek, offer him the other also; and whoever takes away your coat, do not withhold your shirt from him either. Give to everyone who asks of you, and whoever takes away what is yours, do not demand it back." Luke 6:27-30 NAS
Never pay back evil for evil to anyone. Respect what is right in the sight of all men. If possible, so far as it depends on you, be at peace with all men. Never take your own revenge, beloved, but leave room for the wrath of God, for it is written, "VENGEANCE IS MINE, I WILL REPAY," says the Lord. "BUT IF YOUR ENEMY IS HUNGRY, FEED HIM, AND IF HE IS THIRSTY, GIVE HIM A DRINK; FOR IN SO DOING YOU WILL HEAP BURNING COALS ON HIS HEAD." Do not be overcome by evil, but overcome evil with good. Romans 12:17-21 NAS
Even though the ways of the world seem reasonable, logical, desirable -
This I say therefore, and affirm together with the Lord, that you walk no longer just as the Gentiles also walk, in the futility of their mind, being darkened in their understanding, excluded from the life of God, because of the ignorance that is in them, because of the hardness of their heart. Ephesians 4:17-19 NAS
You adulteresses, do you not know that friendship with the world is hostility toward God? Therefore whoever wishes to be a friend of the world makes himself an enemy of God. James 4:4NAS
"If you were of the world, the world would love its own; but because you are not of the world, but I chose you out of the world, because of this the world hates you." John 15:19 NAS
Even though temptation, discouragement, and darkness runs rampant around us -
Stand firm against the schemes of the devil.Ephesians 6:11 NAS
Even though the world around us looks frightening -
Be strong and courageous, do not be afraid or tremble at them, for the LORD your God is the one who goes with you. He will not fail you or forsake you. Deuteronomy 31:6-7 NAS
Therefore we will not fear, though the earth should change
And though the mountains slip into the heart of the sea. Psalms 46:2 NAS
Even though I walk through the valley of the shadow of death,
I fear no evil, for You are with me. Psalms 23:4 NAS
Have something to say about this article? Leave your comment via Facebook below!
advertise with us
Example: "Gen 1:1" "John 3" "Moses" "trust"
Advanced Search
Listen to Your Favorite Pastors