Are You Willing to Lose Your Life?
Kristen Leigh Evensen, The Identity Project
Tuesday, January 28, 2014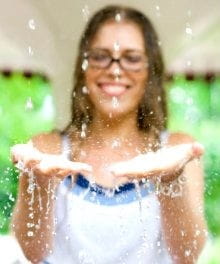 Idols can be immensely deceptive.
Upon recognizing a stealthy idol in my own heart a few weeks back, I felt as though I had gotten punched in the stomach, and the scales fell from my eyes. "How could this happen?" I thought to myself. "How in the world could something so good become such a ruling force in my heart?"
What I seemed to be clinging to, although unknowingly so, was the ministry of writing that the Lord had given me such a passion to see used for his glory. Faced with a major life decision involving clear leading from the Lord, I knew that obeying God could mean a potential effect upon this ministry…one that I was certain, in my grandiose human wisdom (note the sarcasm), I was not meant to release.
My heart broke upon the stunning realization that my iron grip was clenching a good gift given by God's hand, ultimately turning it into an idol in my heart.
Then a gracious challenge presented itself through the Lord's leading: Let the idol go, and find me all-sufficient. There is not room in your heart to glorify anything but me as your Lord and Savior. Will you obey me?
Faced with weaknesses and idolatry, I heard the Lord's tenderness in his command to let go and trust him alone—but in whatever context, for the Christian pursuing holiness in Christ, this is never an easy feat.
As Christians, we talk about "letting go" often throughout our faith journeys. Faith in itself is all about submission and surrender to Christ: "For we walk by faith, not by sight" (2 Corinthians 5:7). Though Jesus Christ, the glory of the one and only Father, walked among men thousands of years ago, we Christians today have not physically seen him. We walk by faith, learning to love him more each day as we release our very lives into his ruling, kind hands.
I contend, however, that most of us do not really understand what letting go means. I think our willingness to fully entrust our lives to Christ comes with...terms. And if not actual terms, then resistance in one form or another, whether we recognize it or not.
Because if we are honest with ourselves, with our hearts, we know that we are not yet perfect. There is so much work to be done by the Holy Spirit to conform us totally to Christ-likeness; to transform our hearts of stone into hearts of flesh; to bring us to a fuller understanding that our lives are ultimately not about us, but about the glory of the Son of God (Romans 14:7-9) and his plan to unite all things to himself, things on heaven and things on earth (Ephesians 1:10).
Even Christians have a problem with this, if we are honest with our sinfulness. Our flesh much prefers to crown itself king, and to rule over its own kingdom. But our new nature in Christ, the "new self" we have been given by being united to Jesus, cannot live in independent from God! This autonomous way of living would be contrary to our identity as a new creation.
However, because we are not yet perfect, because our sinful nature still rears its ugly head, there is a part of the inner-man that resists letting go, giving him or herself fully and completely to Christ, whatever the terms, whatever the cost.
Total and complete submission to Jesus Christ can be terrifying.
Or so the flesh tells us. But the Word of the Lord discloses something entirely different: total and complete submission to Jesus is our freedom and our satisfaction, both presently and eternally.
"For whoever would save his life will lose it, but whoever loses his life for my sake and the gospel's will save it" (Mark 8:35).
Have something to say about this article? Leave your comment via Facebook below!
advertise with us
Example: "Gen 1:1" "John 3" "Moses" "trust"
Advanced Search
Listen to Your Favorite Pastors