Becoming a Woman of Discernment
Kristen Leigh Evensen, The Identity Project
Tuesday, January 07, 2014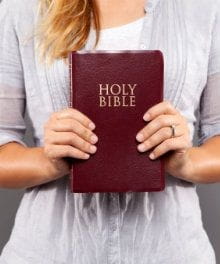 During a quick five-minute break between afternoon tasks, I decided to read a short excerpt from a devotional book, one I had enjoyed reading for daily reflection a few years prior. As I read the day's content, I began to feel less and less comfortable with the spiritual language used. Something about it rubbed me the wrong way. This nagging sense of unease had not been present in years before—so why now? As I thought more pointedly about the content, I realized that the book's thoughts and encouragements had little basis in Scripture and in the gospel message. They revolved more around one person's perception of the truth and in personal revelation and feelings.
In today's world, half-truths and false messages are not limited to the books we read. They run rampant on the Internet, on Christian radio and, unfortunately, in the pulpit of our churches. Beyond blatantly non-Christian, non-Biblical worldviews are cunning messages proclaiming a false version of Christianity, the gospel and the Bible.
Edward T. Welch puts it this way: "We live in a time when there is a resurgence of God-talk and spiritual language, but conversations rarely get to the thing of "first importance: that Christ died for our sins according to the Scriptures…"'1 This is where it gets tricky for believers, and where the rubber hits the road. How do we as Christians discern whether or not the whole truth is being taught in the messages presented to us? How do we protect ourselves against being deceived by false versions of the truth?
One thing is clear: We need to take seriously the call to become women of Biblical, gospel-centered discernment. We need to be trained to test the truth of each message we hear—or the result will be our spiritual deception and the distortion of the gospel of Jesus Christ.
This article will attempt to answer two important questions: Why is our growth in spiritual discernment important? And how can we cultivate discernment in our Christian walk?
Why is Our Growth in Spiritual Discernment Important?
My heart breaks when I consider the thousands of Christians who have been, and will be, led astray by false teaching and false gospels. The reality is, however, that warnings about these very problems were given long ago, as seen in these New Testament passages:
"But understand this, that in the last days there will come times of difficulty. For people will be…lovers of pleasure rather than lovers of God, having the appearance of godliness, but denying its power. Avoid such people…these men also oppose the truth, men corrupted in mind and disqualified in the faith" (2 Timothy 3:1,4,8-9).
"For the time is coming when people will not endure sound teaching, but having itching ears they will accumulate for themselves teachers to suit their own passions, and will turn away from listening to the truth and wander off into myths" (2 Timothy 4:3-4).
"Certain persons, by swerving from [a pure heart and a good conscience and a sincere faith], have wandered away into vain discussion, desiring to be teachers of the law, without understanding either what they are saying or the things about which they make confident assertions" (1 Timothy 1:5-7).
"Beloved, do not believe every spirit, but test the spirits to see whether they are from God, for many false prophets have gone out into the world…therefore they speak from the world, and the world listens to them" (1 John 4:1).
Have something to say about this article? Leave your comment via Facebook below!
advertise with us
Example: "Gen 1:1" "John 3" "Moses" "trust"
Advanced Search
Listen to Your Favorite Pastors