Begging is Okay
Leighann McCoy, Author
Friday, April 05, 2013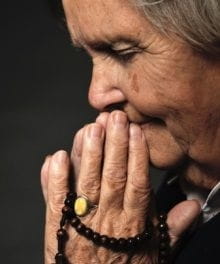 Jesus heard the father's desperate plea and picked up on one tiny, two-letter word: if. "'If you can'?" said Jesus. "Everything is possible for him who believes" (v. Mark 9:23).
And then the father responded with one of the most honest prayers I've ever heard: "I do believe; help me overcome my unbelief!" (v. Mark 9:24).
How many of us, if we were really honest, pray as this dad did. "I do, believe, Lord, but please help me with my doubt." My favorite part of this story is the next part. Jesus helped this dad with his doubt by answering his prayer. I love that!!
Just like the father who brought his son to Jesus, we also really know that God hears our prayers, is intimately acquainted with our grief, and that He has the power to solve our problems when He shouts answers to our heart cries.
I knew God was faithful when the nurse at Dr. Daniel's office (my infertility specialist) read the results of my pregnancy test and said, "Leighann, you are pregnant!" I experience God's unfailing love every time my precious granddaughter lays her head on my shoulder and smiles up at me, and I wonder why I ever begged Him to not let her be.
It's one thing to profess a distant belief in the faithfulness and love of a faraway God but quite another to experience His faithfulness and love as it intersects your desperate heart cry. It is quite all right to beg God to answer your prayers quickly. Begging is OK.
What might happen if you asked God to answer your prayer by tomorrow morning?
How might you have felt had you been one of Jesus' disciples the day that father brought his son for help
How might God help you with your doubt today?
Pray: Oh Jesus, I do believe! Help me with my unbelief! I have this need [tell Him all about it], and I desperately need You to help me.
Leighann McCoy is the prayer and women's minister at Thompson Station Church in Thompson Station, TN, where her husband Tom is the senior pastor. Her books include Spiritual Warfare for Women, Women Overcoming Fear, and Meet Me at the Manger and I'll lead You to the Cross. Leighann lives in Franklin, TN, and is the mother of two daughters, one son, and a son-in-law: Mikel (Austin), Kaleigh, and T.J. Her favorite role is that of Nana to her granddaughter, Misty.
Publication date: April 5, 2013
Have something to say about this article? Leave your comment via Facebook below!
advertise with us
Example: "Gen 1:1" "John 3" "Moses" "trust"
Advanced Search
Listen to Your Favorite Pastors