Biblical Self-Esteem
Kate Motaung, iBelieve.com Contributor
Tuesday, July 02, 2013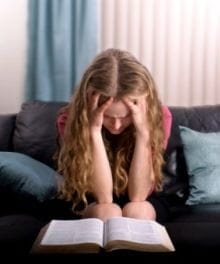 We mustn't forget that we were created by God, in His image. He knew exactly what He was doing when He knit us together in our mother's womb (Psalm 139:13); He didn't make a mistake in the way that He uniquely designed and formed each one of us.
But as much as we should remember our worth in God's eyes, we shouldn't neglect what's inside – we are fallen, wretched sinners, desperately in need of God's grace and mercy every hour of every day (Romans 3:23). We are completely incapable of doing anything good whatsoever, apart from the enabling of His Holy Spirit (Romans 3:10-12).
Sufficient grace
In society today, the norm is to boast about our strengths, not our weaknesses. Take arm wrestling, for example. Whenever my husband poses an arm-wrestling challenge to one of our kids, all three of them pile onto the table to be part of the action. But at the end of the match, who is boasting? Not the one who lost, that's for sure. It's against our nature to boast about our weakness. No, we take every opportunity to boast about our strength.
But again, is this what we are taught to do in Scripture?
In the book of 2 Corinthians, Paul writes about how the Lord gave him a thorn in his flesh to keep him from becoming conceited. Paul asked God three times to remove the thorn, but instead the Lord said to him, "My grace is sufficient for you, for my power is made perfect in weakness" (2 Corinthians 12:7-9).
Notice the reason given for the provision of the thorn. Could it be that the Lord gives us weaknesses to keep us from becoming conceited?
Paul went on to write, "Therefore I will boast all the more gladly about my weaknesses, so that Christ's power may rest on me. That is why, for Christ's sake, I delight in weaknesses, in insults, in hardships, in persecutions, in difficulties. For when I am weak, then I am strong" (2 Corinthians 12:9-10).
How often do we boast about our own weaknesses?
I know a couple that is very good at this. They are quick to admit their own faults, their weaknesses, their fallibility. They are quick to admit their need for grace on a daily basis. They don't mope around like Eeyore from Winnie-the Pooh, but they do consistently speak of their need for the Lord and His help.
Like this couple, instead of elevating ourselves, we should be elevating the only one to whom glory and praise is due.
A healthy God-esteem
The Bible is full of examples of men and women who thought they were 'nobodies' – in this day and age, we might be tempted to say they suffered from a low self-esteem.
Take Moses, for example. When the Lord appeared to him in the burning bush, Moses formulated a series of questions and objections. Finally, he admits the root of his fear: "I have never been eloquent, neither in the past nor since you have spoken to your servant. I am slow of speech and tongue."
How does God respond to Moses' low view of himself? Does he lavish on the compliments and tell Moses he is wrong to think such things? Does he point out all of Moses' positive qualities to overshadow the negative?
No. Instead, He points to Himself and says, "Who gave human beings their mouths? Who makes them deaf or mute? Who gives them sight or makes them blind? Is it not I, the LORD?" (Exodus 3:11)
Then the Lord says to Moses, "Now go; I will help you speak and will teach you what to say" (Exodus 3:12). I will help you. Isn't that all we really need? The promise that the Lord will help us and be with us?
Have something to say about this article? Leave your comment via Facebook below!
advertise with us
Example: "Gen 1:1" "John 3" "Moses" "trust"
Advanced Search
Listen to Your Favorite Pastors