Biblical Self-Esteem
Kate Motaung, iBelieve.com Contributor
Tuesday, July 02, 2013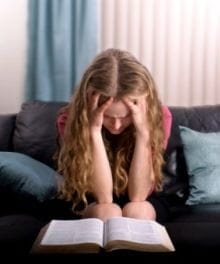 Consider the account of Gideon in Judges 6, when God tells Gideon to go and save the people of Israel from the hand of the Midianites.
Just like Moses, Gideon comes with an objection. "Pardon me, my lord," Gideon replied, "but how can I save Israel? My clan is the weakest in Manasseh, and I am the least in my family" (Judges 6:15).
Again the Lord's answer was the same. He did not say, "Don't worry, Gideon, it's okay that you're small and weak. You have good qualities, too." No, instead He assured Gideon with the same words He used with Moses: "I will be with you ..." (Judges 6:16). What a wonderful promise.
A plan of action
So to answer our opening question, what do we do when our friend comes to us in tears because of her low view of self? What do we do when we struggle with our own feelings of inadequacy and need for approval
According to Scripture, it is not helpful or healthy to elevate ourselves or our friends for the sake of "feeling better." Instead, we should be honest about our failings – we should boast about our weaknesses so that Christ may be exalted.
If a friend comes to you in need of an ego massage, do her a favor and don't give her one. Instead, paint her the most beautiful picture you possibly can of the glory and majesty of the One she serves. Elevate Him, not her. Help her to rest secure in His love, in His grace, in His mercy, in His presence, in His power, in His ability, in His promises…not in the need for approval from a hostile and fallen world.
This article was first published in the November/December issue of Radiant Magazine.
Portions of this article have been borrowed from a sermon preached by my husband, Kagiso Motaung, at The Message Church in Mowbray, Cape Town, in July 2012.
Kate Motaung is the wife of a South African pastor and homeschooling mom of three. She has contributed to Ungrind, Radiant Magazine, (in)Courage, StartMarriageRight.com, Thriving Family, MOPS and Young Disciple magazine. You can read more from Kate at her blog, Heading Home or on Twitter @k8motaung.
Publication date: July 2, 2013
Have something to say about this article? Leave your comment via Facebook below!
advertise with us
Example: "Gen 1:1" "John 3" "Moses" "trust"
Advanced Search
Listen to Your Favorite Pastors