Breast Cancer Awareness Month: It's Personal
Susan J. Knowles
Thursday, October 25, 2012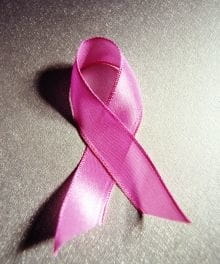 I was scared and felt that my worst nightmare was coming true just as it had for my mother. The call came in on a Thursday, and I wasn't able to go back for the second mammogram and ultrasound until the following Monday. I remember being unable to focus on much of anything for the next couple of days. I began praying and asking God for His healing. A friend of mine reminded me of God's promise in 1 John 5:14-15 which states "that if we ask anything according to His will, He hears us. And if we know that He hears us, whatever we ask, we know that we have the petitions that we have asked of Him." This brought me much needed comfort. I also recall strengthening my faith in God's promise which, according to James 1:6 states "But let him ask in faith, with no doubting, for he who doubts is like a wave of the sea driven and tossed by the wind." My relationship with God and my faith in Him grew stronger over the next few days as I gave it all over to Him for complete healing and peace from the situation (Philippians 4:6-7).
The time I spent with God was an amazing blessing and a period of growth in my walk with Him. I went to my scheduled appointment and received the results. He had completely healed me. I'll save the complete story of my healing for another time. However, I can tell you that it was a miraculous healing which has transformed my life. The mammogram revealed that the "spot" which appeared on the first film (which I was allowed to see) was nowhere to be found on the subsequent mammogram. The ultrasound was also canceled by the doctor as it was no longer needed and I was given a clean bill of health. My prayers had indeed been heard.
Since there are no clear answers as to why some people get breast cancer and others don't, each woman should receive regular mammograms (ask your doctor how often you should have a mammogram). I've spoken to a number of women who don't get mammograms because they are concerned that the mammogram itself will be painful. I have never found this to be true. In fact, technicians are trained to be sensitive to women's concerns about discomfort during the procedure. If you have a concern, let the technician know and allow her to help you through it.
The bottom line is that you and I must endeavor to take care of ourselves and lead the best possible life that we can. This means striving for a balanced life of mind, body, and spirit which will assist us in maintaining good health. Reading the Bible and spending time with God on a daily basis can also help us to find our life's balance. However, nothing in life comes with a guarantee. As women, we must be proactive in giving ourselves monthly self-examinations (or as often as your doctor recommends) with yearly mammograms (or more often per your doctor's recommendations).
This October, pray for those who have been diagnosed with breast cancer. Then, take the time to schedule a mammogram for yourself if you haven't already done so. Next, ask those women in your life whom you love if they've had a mammogram recently. If not, encourage them to schedule one today. You may be saving the life of a loved one and even your own.
Susan J. Calloway Knowles is a Licensed Christian Marriage & Family Therapist and former practicing Family Law Attorney. She is also a Christian music Songwriter. Susan's songs can be found at www.worshipsong.com. Her website is www.susanknowles.com.
Publication date: October 25, 2012
Have something to say about this article? Leave your comment via Facebook below!
advertise with us
Example: "Gen 1:1" "John 3" "Moses" "trust"
Advanced Search
Listen to Your Favorite Pastors