Carry Each Other's Burdens: Ministering to those Enduring Miscarriage
Teske Drake, President, Mommies With Hope
Tuesday, January 15, 2013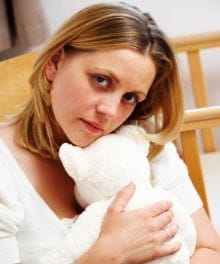 Editor's note: This article is Part 2 of a 3-Part series on healing from pregnancy loss. Today's author, Teske Drake, writes on the miscarriage, stillbirth, and infant loss. Part 1 can be read here.
The news of pregnancy elicits emotions of all kinds for expectant parents. Whether the pregnancy was planned or took the parents by surprise, one can't deny the presence of emotion. Joy, excitement, surprise, trepidation. Emotion enhances the attachment bond that occurs between parent and child in those early days. Often, bonding first occurs in the form of hopes and dreams that take root long before pregnancy occurs. Pregnancy is then the culmination of dreams for the couple and give confirmation of what's to come: a new addition to the family. When those hopes and dreams are dashed due to miscarriage or infant loss, grief naturally ensues. The response of those surrounding the bereaved has the potential to lift up or tear down. Scripture commands that we are to "Carry each other's burdens and in this way, you will fulfill the law of Christ" (Galatians 6:2). Why, then, do we find it so hard to know how to comfort those who endure childbearing losses?
When I found out I was pregnant with our second child, I raced to the store to buy an "I love Daddy" bib as my way of sharing the news with my husband later that night. Within days, we told family and friends, excited to see our plans unfolding before our eyes. Weeks and months went by until we were halfway through our pregnancy and heard these words at a routine ultrasound: "Your baby is going to die."
Questions poured out, almost as quickly as the tears as we learned more about our baby's diagnosis and our options. We discovered we were having a little girl who had a chromosomal abnormality that impacted her brain development. Thus, we had two options: 1) We could continue the pregnancy to term, knowing that our baby would die shortly after birth, or 2) We could terminate the pregnancy. We trusted that our baby girl's life was in God's hands and continued the pregnancy. I gave birth to Chloe Marie at 32 weeks along after going into premature labor due to pregnancy complications. Chloe lived for 45 minutes and we treasured every moment.
Chloe's life and death helped me understand the magnitude of grief experienced by parents who endure childbearing losses. I also became more keenly aware of the prevalence of such loss. In the United States, it is estimated that 1 in 4 pregnancies ends in miscarriage and there are 26,000 stillbirths each year. These statistics became even more of a reality to me when a couple of years later I experienced two miscarriages, baby Jesse at 6 weeks gestation and Riyah Mae at 14 weeks gestation. Throughout our journey, there have been those who've come alongside us to carry the burden, pointing us to the hope we have in Christ. There've been others, well-meaning I am sure, whose attempts to comfort have brought about more hurt than healing. My own experience has compelled me to embrace the calling to be a comfort to others because of the comfort I received from God, as described in 2 Corinthians 1:3-4.
You may be wondering how you can be of comfort to someone who has been through such a loss if you haven't experienced it yourself. Yes, shared experience plays a role in creating a safe environment for openness and vulnerability (2 Corinthians 1:7). Still, each of us has the opportunity to minister to those hurting as a result of miscarriage, stillbirth, or infant loss. Losses such as these quite often go unrecognized, are minimized, or are outright disenfranchised, despite the frequency of their occurrence. Even further disenfranchised is the silent grief experienced by the millions of Christian American women who are grieving after loss by abortion. There are millions of women grieving all types of reproductive losses, within the walls of our churches. We are called to carry the burden together.
Have something to say about this article? Leave your comment via Facebook below!
advertise with us
Example: "Gen 1:1" "John 3" "Moses" "trust"
Advanced Search
Listen to Your Favorite Pastors