Carry Each Other's Burdens: Ministering to those Enduring Miscarriage
Teske Drake, President, Mommies With Hope
Tuesday, January 15, 2013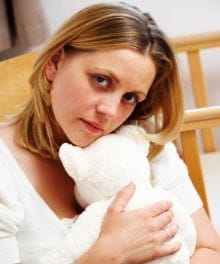 Romans 12:15 instructs us to "Rejoice with those who rejoice; mourn with those who mourn." Might we be a people who are willing to go deep into the trenches with those who are grieving just as readily as we are to stand upon the mountaintop with those who celebrate a season of blessing? As members of one body, the Body of Christ, we are to use our gifts to build each other up.
The prevalence of miscarriage, stillbirth, infant loss and abortion are so pervasive that if you have not experienced this type of loss yourself, you know someone who has. How, then can we come alongside, carry the burden, and minister to those grieving such losses?
Acknowledge the Life: Those who've endured loss need validation. Failure to acknowledge the life and loss may cause parents to feel like people don't care. The simple gesture of sending a card or expressing your condolences sends a wonderful message of support, opening doors for additional opportunities to minister. As you acknowledge the deep grief, be careful to avoid common Christian clichés that may unintentionally minimize the loss. Simply validate their pain and offer love.

Don't Forget Dad: In pregnancy and infant loss situations, most of the attention is focused on the mother. However, dads grieve too! Each person is going to experience his/her grief in their own unique way. Dads whose babies die are often expected to "be strong" and to protect the mom. Such expectation places added pressure for grieving dads.

Remember Special Days: Facing special days, such as holidays, birthdays, anniversary dates and the like can be difficult for anyone who has had someone special in their life die. For parents whose baby has died, there are some additional dates to be aware of, including: the due date of the child as well as Mother's and Father's Days. Send a card to show you care and be sure to acknowledge the significance that these special days hold.

Give them a Gift of Remembrance: When someone loved dies, we are left with memories to help us cope. When a baby dies, there are few memories or tangible mementos, if any. There are numerous gift ideas to give in remembrance or as a keepsake. Some specific examples may include:
-Create or have a baby quilt made and personalize it in some unique way.
-Give the family an outdoor perennial planting that will bloom each Spring.
-Customize a piece of jewelry with the baby's name or initials or consider giving a special charm.
-Purchase a meaningful figurine in remembrance of the child.
-Be creative and put together a small scrapbook or shadow box that details this journey.

Pray for the Parents (and tell them so): Never underestimate the power of prayer. James 5:16 reminds us, "The prayer of a righteous person is powerful and effective." Let the parents know that you are lifting them up to the Lord in prayer.
Together, let's unveil the silence surrounding this real and widespread issue that permeates our churches and beyond. Let's do what Scripture says and carry each other's burdens. In doing so, we grasp the opportunity to point those hurting to the healing hope of Jesus, who is our hope. Then, our Father in heaven is exalted and glorified in the building up of the Body of Christ.
Teske Drake is a mommy to three babies in heaven, mother to two on earth, and wife to her one and only, Justin. Inspired by her own loss experiences, Teske serves as co-founder and President of Mommies with Hope, a biblically-based support group ministry for women who have experienced the loss of a child through miscarriage, stillbirth, or infant loss. Teske is the author of Hope for Today, Promises for Tomorrow: Finding Light Beyond the Shadow of Miscarriage or Infant Loss (Kregel, 2012) and she leads women to live in hope at www.mommieswithhope.com.
Publication date: January 15, 2013
Have something to say about this article? Leave your comment via Facebook below!
advertise with us
Example: "Gen 1:1" "John 3" "Moses" "trust"
Advanced Search
Listen to Your Favorite Pastors