Envy: Exposing Your Inner Veruca Salt
Katie Brazelton and Shelley Leith, Authors, Character Makeover
Monday, August 01, 2011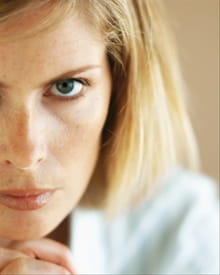 Envy's Ego-Driven Bumper Sticker: "It's All About Me"
Here's how envy would sum up her life philosophy on a bumper sticker: "It's all about me." But what happens when your ego gets all that attention it wants? Instead of feeling confident, you start feeling insecure — literally afraid that you can't keep up the facade. The "it's all about me" person tries to prove herself to other people, and in doing so, she only reinforces a feeling of inferiority.
What's the cure for the "it's all about me" disease? Love others. First Corinthians 13:4 says that love "does not envy." You see, love cancels out envy. Envy is inward-focused; love is outward-focused. Love gets your eyes off yourself and onto someone else.
Envy's Theme Song: "I Want It All"
Veruca Salt's rendition of "I Want It All" reminds me of Aesop's fable entitled "The Dog and the Shadow." In that story, a dog is carrying a piece of meat in his mouth while he crosses over a brook. He looks down and sees his own reflection in the water. Thinking it is another dog with another piece of meat, he decides that he also wants what that dog has. So he snaps at the shadow in the water, but as he opens his mouth, his piece of meat drops into the water and is lost. The moral of the story: If you covet all, you may lose all.
The cure for the "I want it all" syndrome is to get you from the state of wanting to the practice of trusting. Try this:
1. God is able to give me anything I ask. "I am the LORD, the God of the whole human race. Is anything too hard for me?" Jeremiah 32:27
2. So, I ask. You do not have because you do not ask God. James 4:2
3. Now, there are three possibilities that can occur:
• If I get it, it's because God knows it would be good for me to have. "How much more will your Father in heaven give good gifts to those who ask him!" Matthew 7:11
• If I don't get it, it's because God knows it wouldn't be good for me to have. Every good and perfect gift is from above, coming down from the Father of the heavenly lights, who does not change like shifting shadows. James 1:17
• If I get something different, it's because God knows what I need better than I do. "As the heavens are higher than the earth, so are my ways higher than your ways and my thoughts than your thoughts." Isaiah 55:9
4. So, I can trust God to give me what I need. And my God will meet all your needs according to the riches of his glory in Christ Jesus. Philippians 4:19
Originally posted April 3, 2008.
Adapted from Katie Brazelton and Shelley Leith's new book Character Makeover: 40 Days With a Life Coach to Create the Best You (Zondervan, 2008). Used with permission. All rights reserved.
---
Katie Brazelton, Ph.D., M.Div., M.A., is the author of bestselling Pathway to Purpose for Women, along with its popular companion books: Praying for Purpose and Conversations on Purpose. She is the founder of Life Purpose Coaching Centers, InternationalTH, which trains Christian men and women internationally (online and in conferences) to become Life Purpose Center Coaches(r) and Life Plan Facilitators. For years, Katie was a licensed minister at the purpose-driven Saddleback Church. Katie is thrilled to be a first-time grandmother, who also regularly gets to enjoy her daughter, son, and daughter-in-law who all live nearby in Southern California.
Shelley Leith serves on staff at Saddleback Church as the lead developer of worldwide resources. Her previous writing projects include sprearheading the highly popular 40 Days of Purpose and 40 Days of Community. Shelley lives with her husband, Greg, and their five teenagers in Southern California.
Have something to say about this article? Leave your comment via Facebook below!
advertise with us
Example: "Gen 1:1" "John 3" "Moses" "trust"
Advanced Search
Listen to Your Favorite Pastors