Independence... Is It Really a Good Thing?
Cindi McMenamin
Tuesday, July 03, 2012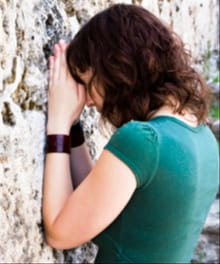 In a day and age when independence is praised, I wonder if it's really a good thing when it comes to our relationship with God.
"God helps those who help themselves," we say, as if quoting Scripture. Oh really? I believe Scripture implies God helps those who admit they can't help themselves. The Apostle Paul, who probably considered himself quite independent before he met Christ, claimed the strength that comes through a total dependence on God when he said God's "power is perfected in weakness. Therefore I will boast all the more gladly about my weaknesses, so that Christ's power may rest on me" (2 Corinthians 12:9).
Some of us have trouble depending on anyone. Usually it stems from being burned -- having had a parent who walked out on us, a boyfriend or husband who betrayed us, someone significant who let us down and made us think twice before we depended on anyone again. We find ourselves thinking "I don't need anyone. I'm on my own. And I'm doing just fine."
But oh how that mindset must hurt the One who longs for us to depend on Him.
If you've prided yourself on not needing anyone, or have just feared trusting another person because of disappointment or betrayal, God wants to more than make up for your disappointment in someone else by showing you, in His Word, that He's the most reliable One you could ever depend on.
Scripture tells us three wonderful things about the God who wants us to depend on Him:
God can be trusted with your provision. When we think of someone to depend on, we often think in terms of financial stability. I remember having a falling out with my father when I was in college and wondering whom I could depend on, financially, to help get me through that difficult time. As I looked to the Lord, He provided all I needed, including a restored relationship with my Dad. And then, once married, I remember feeling rather insecure about the small paycheck my husband received during his first few years as a fulltime pastor, after I had quit my career job to stay home and raise our daughter. But I learned early on in our marriage that God can be trusted to provide for us and meet our every need. As we were faithful to honor Him with all that we had, including our money, He was always faithful in providing for us. We learned, first hand, the truth of Philippians 4:19, that "My God will meet all your needs according to his glorious riches in Christ Jesus." Jesus, Himself, knew we would be concerned about material things like food, clothing and making ends meet, and therefore, He told His followers: "Do not worry about your life, what you will eat or drink or about your body, what you will wear...Look at the birds of the air; they do not sow or reap or store away in barns, and yet your heavenly Father feeds them. Are you not much more valuable than they?" (Matthew 6:25-26). That sounds like a pretty clear "Don't worry about it" statement from the Son of God. In other words, "You have a God who is in control; so don't feel that you have to be." Those are reassuring words for anyone who feels they have no one to depend on.
God can be trusted with your protection. We can invest in a top-of-the-line security system for our homes and take all sorts of pre-cautionary measures to protect all that we have, but ultimately God is the one who protects us and keeps us safe. The Psalmist tells us: "I will lie down and sleep in peace, for you alone, O Lord, make me dwell in safety" (Psalms 4:8). And Psalm Psalms 121:2-3 assures us "My help comes from the Lord, the Maker of heaven and earth. He will not let your foot slip -- he who watches over you will not slumber." Our daughter recently saw this reality in her life. As she was traveling out of state with her college women's choir, several of the women in the choir had their wallets, credit cards and cash stolen from a church basement, while they were performing their concert. My daughter's possessions were not touched. And what about the other girls who lost their money? A television news reporter came to the scene and unbeknownst to the choir made an on-air pitch to viewers to help the girls with their losses. The next day, the girls were completely reimbursed for everything that was taken...another testimony to them of God's provision -- and protection -- on their ministry tour.
Have something to say about this article? Leave your comment via Facebook below!
advertise with us
Example: "Gen 1:1" "John 3" "Moses" "trust"
Advanced Search
Listen to Your Favorite Pastors