Jesus: More than Just Our Teacher
Sarah Coleman, Author
Tuesday, April 08, 2014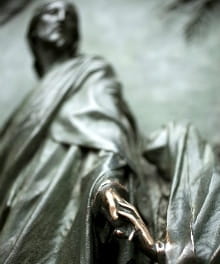 "Mary!" Jesus said. She turned to him and cried out, "Rabboni!" which is Hebrew for "Teacher" (John 20:16).
When Mary recognised the risen Lord she responded saying, "Rabboni," which means, "My Teacher, my Great One, my Master." Most people called Jesus, "Rabbi." But to Mary, the resurrected Christ was more. Is he more than a teacher to you?
The office of Rabbi is not in found in the Old Testament. Rabbis taught the way of the Torah (and still do). They came about because the children of Israel wanted to return to the ways of God after decades of rebellion.
Jesus was "Rabbi" to many: Judas, the other disciples, Bartimaeus, and Nicodemus. He was a great tutor with many followers. Jesus fit the description of a Rabbi. But Mary took it further. She called him, "Rabboni. My Rabbi. My Great One." He was not just another teacher to her. He was hers. Her Teacher.
The world is full of varying belief systems and doctrines. There are around 4200 different religions today. But Christianity was never meant to be one out of 4200. It didn't start that way. It did not begin as a Jewish sect. It was not launched out of rules, ideologies, angelic visitations, heavenly visions, or trances. It started on resurrection day, when Jesus called Mary by name, and she responded, "My Teacher, my Master." Christianity is personal, initiated in relationship.
You are valued by God.
Isaiah 43:1 says, "I have called you by name; you are mine." Jesus calls you by name. You are his. You are not a number. He knows what you like. He knows what concerns you. He understands your personality. What he speaks to your heart is unique.
God values you. He wants to have a relationship with you. You. That is why Jesus came. He died to restore relationship with humankind. He longs to be with you, talk to you, love you. Cherish your relationship with him.
Jesus wants to be Teacher & Master in your life.
These days there is Bible teaching aplenty – Christian television, podcasts, live streaming, and sites such as Crosswalk. It is easy to get your hands on quality Christian material, and for this we should be thankful. However, great sermons should never take the place of a personal revelation of Christ. Jesus wants to be your teacher. It is the most exciting part of a relationship with him.
I know many people struggle in discerning the voice of God. Admittedly, it is not an exact science. God speaks to his children all the time. The question is: am I listening? Or perhaps, how do I tune myself to his voice?
Hearing the voice of God for yourself.
Holy Spirit sounds a lot like me. Seriously, he does. His voice in my head sounds much like my own. But when he speaks, I know it's not me, it's God. Cryptic and confusing, yes? Stay with me.
God's voice will not be big, booming, or immensely profound. Well, it might be, but definitely not all the time. It will always bring a sense of peace. Holy Spirit will calm the raging storm, and quiet confusion. Still and small, that's God.
And after the earthquake there was a fire, but the Lord was not in the fire. And after the fire there was the sound of a gentle whisper (1 Kings 19:12).
Holy Spirit never contradicts the Bible. Ever. So if you are unsure whether God is speaking, go to the Word. If Scripture supports what God spoke to your heart, it was God.
For the word of God is alive and powerful. It is sharper than the sharpest two-edged sword, cutting between soul and spirit, between joint and marrow. It exposes our innermost thoughts and desires (Hebrews 4:12).
Have something to say about this article? Leave your comment via Facebook below!
advertise with us
Example: "Gen 1:1" "John 3" "Moses" "trust"
Advanced Search
Listen to Your Favorite Pastors