Living -- and Dying -- Well
Trudy Harris, RN, Author, Glimpses of Heaven
Wednesday, August 06, 2008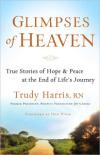 My prayer for Mary Anne over this long period of time had been, "Lord, put Your arms around her, hold her in Your tender, loving care, and help her to know she is safe with You." One day while I was visiting, Mary Anne explained the first of many spiritual experiences she would eventually have. "I was not asleep," she said to me very pointedly. "I was awake, and He came to me here in my room. He put His arms around me, and I felt so safe and warm."
"That was Jesus," I said to her.
"No, it wasn't, Trudy, it was you," she said with a lovely smile.
What does it mean? I wondered. Is this how God visits with His children, through fragile and broken clay pots like us? How does it happen that God should let our prayers be answered in such intimate and undeniable ways? It's as though He is tapping us on the shoulder and saying, "Do you recognize Me?" It was the first of hundreds of times that God allowed me to see His hand so lovingly and intimately touch His children as He drew them home to Himself.
Mary Anne asked if I had a friend, a priest perhaps, who might come to visit her. I told her that I did. Although we had often spoken about God and His place in our lives, we had never spoken specifically about church or religion, so I was both surprised and happy about her question. I asked a wonderful young man, newly ordained, if he would visit her at home. He was so happy to be asked and would often sit up on the king-size bed with her and share what he had come to know about God and His great mercy and love. I don't know who enjoyed their talks more, because they both seemed to love the give-and-take of shared ideas and they both told of their awareness of God's grace in their midst. They spoke often and long into the night, the wounded healer, healing the wounded. Which was which? I wondered. It was an enormous gift to watch this relationship unfold for both of them.
God loves each of His children so deeply and wants them to know Him. His desire for them is to find peace and to come home to Him when He calls. It is wonderful to watch the lengths to which He will go to make that happen. He gives us ample time and uses the everyday gifts we have had all our lives to help us find Him. Mary Anne was gifted with great curiosity and determination, which she had used in her successful business life. God enabled her to use those very same gifts in searching for and finding Him. What an awesome and loving God we have at our disposal all the days of our lives.
One day Mary Anne asked me why I thought God had left her here on earth so much longer than her doctors thought was possible. I said I thought that maybe He wanted to give her all the time she needed to find Him. "Have you found Him yet, Mary Anne?" I asked her one night. "Oh yes," she replied with the same confident assurance she had reflected in business all her life, but this time peace and contentment covered her face.
More than two and a half years had passed since Mary Anne first visited with me. It was Christmas Eve, and once again you couldn't miss God's presence and precious love for her as little children gathered in the snowy night outside her bedroom window, singing "Silent Night." They sounded like angels straight from heaven, and Mary Anne was baptized that very evening by the young priest she had come to know and love very much. Once again God was visiting her Himself through the person He had sent to comfort and guide her on her way home to Him. She died peacefully in the early hours of that Christmas morning.
For more information visit http://www.glimpsesofheavenbook.com/
Excerpted from Glimpses of Heaven by Trudy Harris; copyright 2008 Trudy Harris. Reprinted with permission of Revell, a division of Baker Publishing Group.
Originally published August 6, 2008 in resposne to Professor Randy Pausch's death.
---
Trudy Harris, R.N., is a former hospice nurse and president of the Hospice Foundation for Caring. Taking on additional roles in marketing, public relations, and fund-raising, Harris raised more than $45 million in capital contributions for HFC. She is now retired and lives in Florida with her husband.
Have something to say about this article? Leave your comment via Facebook below!
advertise with us
Example: "Gen 1:1" "John 3" "Moses" "trust"
Advanced Search