Making Peace with Dad This Father's Day
Cindi McMenamin, Author
Tuesday, June 10, 2014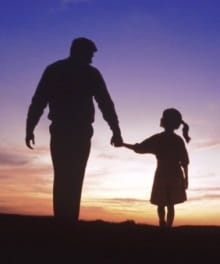 If the thought of Father's Day brings a sting to your heart, you are not alone.
As I was interviewing women while writing my book, When a Woman Overcomes Life's Hurts, I discovered that the "Daddy wound" is very prevalent among women. Little girls who experienced abandonment, rejection, abuse, or indifference from their fathers can tend to carry that pain with them throughout their lives.
And then there are those of us who simply longed for a closer relationship with the man who at one time was first in our hearts.
If you are one who has never experienced the love of a father, or has been disappointed through unmet expectations or even hurt deeply by your father, you don't have to remain "stuck" in that place of heartache from year to year. You can free your heart from unmet expectations, pain and regret, by making peace with Dad this Father's Day - whether he's still alive or not.
In fact, do it as a gift to yourself.
Forgiving your father - or coming to terms that he may never be the man you had hoped he would be - is something that happens in our hearts first. And if your Dad is still alive, you have the opportunity to express grace and forgiveness on your end, which will help you move forward out of pain and regret.
Stephanie was able to do this recently. Her father left her mother and abandoned the family when she was about five years old. Then after he remarried and became a step-parent to his second wife's children, he arranged for weekly visits with Stephanie and her sister, but she grew up feeling "second choice" to her father's "other" children.
"It was a rough relationship while growing up," Stephanie recalls. "I remember being mad at him during my weekend visits. As I became an adult I would get off the phone with him and cry or be really upset. I let myself be hurt by his empty promises to see me more or call more often to stay in touch."
But Stephanie had to free her heart from unmet expectations and resentment that was keeping her from moving forward in life. Today she experiences peace when it comes to her relationship with her dad because she took a journey of forgiveness that started in her heart.
These are the steps toward peace that Stephanie followed, and that you can follow, too.
1. Forgive your father for the ways he has hurt you or not measured up.
We all have expectations of what we wanted from our dads. And when we realize they are human, and therefore sinners, just like us, we can extend grace for the ways they've fallen short, just has God has extended it toward us. Stephanie says: "It wasn't until I became a Christian that I realized I needed to forgive my dad. I wrote him a letter and said I was finally putting all this behind me. I forgave him for walking out on our family and told him I would like to have a closer relationship with him. He called and said he was shocked that I had held on to the pain of the divorce for so long. Apparently he hadn't noticed my anger through the years, or hadn't given it that much thought." It was then that Stephanie realized her dad might never respond to her the way she had hoped. So she took the second step of forgiving him.
2. Face the fact that he may never become the dad you had hoped for.
Stephanie said her dad continues to hurt her in ways he probably doesn't even realize. "He still makes the same empty promises and says hurtful things, but ever since I've forgiven him, God has given me peace." As Stephanie learned, when you forgive someone, it doesn't mean your relationship with that person will be fully restored. It just means that you will have peace for having extended forgiveness and you will be able to move forward with life.
Have something to say about this article? Leave your comment via Facebook below!
advertise with us
Example: "Gen 1:1" "John 3" "Moses" "trust"
Advanced Search
Listen to Your Favorite Pastors