Making Peace with Mom
Cindi McMenamin, Author
Thursday, May 02, 2013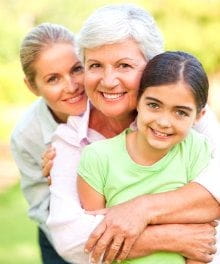 One way to make peace - or just have a better relationship - with your mother is to release any resentment you may feel toward her about hurts you experienced while growing up.
The Bible instructs us "If possible, so far as it depends on you, be at peace with all men," (Romans 12:18, emphasis added). Biblically, it is our responsibility to make the first move. And sometimes that is just a matter of expressing love and appreciation.
Take a moment, right now, to think about who you are as a woman and how you have been positively influenced by your mom. Are you compassionate because of how you saw her treat others? Are you ambitious because of what you've seen her accomplish? Are you creative or detail-oriented because she was or wasn't? Do you love to cook because of what she taught you in the kitchen?
I encourage you to spend a moment pondering these three questions:
1. What did my mother excel at?
2. What did my mother teach me?
3. In what ways am I most like my mother today?
When you take time to answer those questions thoughtfully, you may discover that your mom had a more positive influence on you than you realized. As you gain peace in your heart about your mother, you can free yourself from the draining effects of bitterness and start to be the kind of mom your children need you to be. When we are struggling to forgive our moms, or harboring resentment in our hearts at how we were raised, that bitterness shows up in ways we may not realize or expect. If you have children, it's important let them know you love your mom (even if it's an "after she's gone, I've forgiven her" type of love).
Would you consider contacting your mom through an email, letter, phone call or card and telling her what you appreciate about the positive qualities you inherited or learned from her? As you bless her, God has a way of bringing that blessing back around to you. And if your mom has departed this earth and you don't have a chance to do that, write out something for your own heart's sake and share it with a family member or friend. You may find it is healing to finally, in your heart, make peace with Mom.
Cindi McMenamin is a national speaker and author of several books, including When Women Walk Alone (more than 100,000 copies sold), When a Woman Overcomes Life's Hurts, and her upcoming release, When a Mom Inspires Her Daughter, from which this article is adapted. For more on her books and free resources to strengthen your soul, see www.StrengthForTheSoul.com.
Publication date: May 2, 2013
Have something to say about this article? Leave your comment via Facebook below!
advertise with us
Example: "Gen 1:1" "John 3" "Moses" "trust"
Advanced Search
Listen to Your Favorite Pastors