Married and Lonely: Looking to Your Heavenly Husband
Cindi McMenamin, Author, When Women Walk Alone
Thursday, November 06, 2008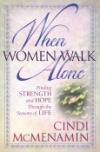 Finding a New Focus
Now I realize that my reference to eternal blessings may not make you feel any better if you are struggling with feeling disconnected to your husband, or struggling with not having a husband at all. But let me encourage you with this: A marriage here on earth is temporary. It will last, at the most, until you or your spouse dies. But marriage with the Lord will last into eternity. And I've found that in my own experiences of being lonely in love (for the most part, married to a pastor who is an introvert and very busy in ministry), focusing on my heavenly Husband is one sure way to get my mind off of unmet expectations in my earthly marriage and to still live in joy as a woman much loved.
So what is all this talk about a marriage to the Lord?
Throughout the Old Testament, God refers to His chosen people, the nation of Israel, as His bride. In Isaiah 54:5 He tells Israel, "Your Maker is your husband—the LORD Almighty is His name." In the New Testament, Jesus refers to Himself as the Bridegroom and to His church (those who trust Him as Savior and Lord) as His bride. Jesus also talked of going away to prepare a home for us in heaven and then returning to get us, His bride, and take us back to live with Him (see John 14:2-3). God's comparison of His love for us with a husband-wife relationship is too obvious to overlook in Scripture; He is definitely trying to make a point to us.
Putting Marriage in Its Proper Place
Could that point be that God wants us to see Him as our heavenly Husband and the One who holds our hope and future in His hands? I believe so. Of course, upon making a marriage vow to God and to our spouse, there's no question that we should make our marriage relationship a priority over any other relationship here on earth (even that of our children) and do all that is humanly possible to make it work until death do us part. But if our perspective were realigned so that we, as women, considered ourselves married to God first, it would dramatically change how we view our earthly marriage or lack of one.
This was apparently the case with Geri. Geri was a strikingly beautiful woman who approached me one morning after a speaking event. I had just encouraged a large group of women to listen to the call that Jesus, their heavenly Husband, was making on their life—the call to come back to His heart and live a life of intimacy with Him.
As Geri approached me, I could see that she had tears in her eyes. "My husband left me three years ago," she said. "Today would have been our twentieth wedding anniversary."
I reached out to touch her hand as she continued: "I was praying last night that my husband would call me today. That's all I wanted—just a call." Geri stopped to regain her composure and then said: "I realize now that God answered my prayer. My Husband was calling me today." Her smile and the tears of joy in her eyes told me she now understood, for the first time in three painful years, who her real Husband was. She left with a new hope that morning…a hope founded in knowing that she was loved and cherished by the One who would never leave her.
Jesus told us that marriage on this earth is for a lifetime, not for eternity (Matthew 22:30). Upon the death of you or your spouse, it will end. (And unfortunately in many cases, a marriage ends a lot earlier than that, through abandonment or divorce.) Your marriage to Christ, however, is eternal. In fact, your relationship with Him here on earth is similar to an engagement period, and the real marriage will take place in heaven. Jesus told us that when we meet Him in heaven, we will partake in the "marriage supper" (Revelation 19:9). Whose marriage? Our marriage with the Lord.
Picturing a Perfect Marriage
What will our marriage with the Lord be like? I believe God designed marriage between a man and woman here on earth to give us a glimpse of what a marriage with Christ can be like in heaven. Try to go with me here: A marriage with Christ will be a perfect union of unconditional love and trust, complete vulnerability, sensitivity, tenderness, security, provision, and fulfillment. It will also be completely free of any of the negatives that we may have experienced in our own earthly marriage or other people's marriages. That's because our marriage in heaven will be to the Perfect One, Jesus Christ, who knows only goodness, faithfulness, and love. In a marriage to Christ, you are treated as the most precious, beautiful, sought-after bride there ever was. Because in His eyes, you are.
Have something to say about this article? Leave your comment via Facebook below!
advertise with us
Example: "Gen 1:1" "John 3" "Moses" "trust"
Advanced Search
Listen to Your Favorite Pastors