Married and Lonely: Looking to Your Heavenly Husband
Cindi McMenamin, Author, When Women Walk Alone
Thursday, November 06, 2008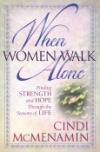 Obviously, we weren't able to keep that promise of never being separated again. My travels as a speaker and my husband's position in ministry have many times not afforded us the opportunity—or luxury—of taking our business trips together. And in fact, as I write this, he is in Papua New Guinea, on a two-week stay in the jungle, away from any telephones, modems, or postal services to "keep in touch." Keeping a vow of never being separated physically wasn't realistic because of our ministry obligations, yet our love for each other still makes separation difficult.
Do you and I feel a similar longing when it comes to our heavenly Husband? Do you and I long for the day we will be joined to our Lover and Lord forever? We should have that kind of longing in our hearts. And when we make our relationship with Christ a priority and make Him our focal point in all things, we will know true fulfillment—even in the alone times.
Let me share with you three practical things that we can do—every day—in our relationship with the Lord so that our marriage to Him fills the void a man cannot fill.
1. Communicate with God about everything. Relationships are built and maintained upon communication. And a lot of times that starts with talking about the little things and building up to a more vulnerable and soul-exposing communication. Tell God about the little things in your day, every day. Unlike some husbands, He will be glad to hear every little detail. (God never tells us, "Get to the point, please!") As you go to God first with everything on your heart and mind, you may find you have less to complain or talk about with your husband, which may make you a little more attractive to him and more of a mystery to him, as well. (And don't most men love a good mystery?)
I find that when I talk to God more, and to Hugh less, it causes Hugh to be more interested in my life and more interested in wanting to talk with me. It is a breath of fresh air in my marriage for my husband to be the one to say, "Let's spend some time together so we can catch up on life." And if you're not married, telling God about your day is one way of letting Him fill that need for "someone to talk to" and "someone to listen."
2. Commit yourself to trusting in God alone. Trust is another key element in a good relationship. And God wants you to trust Him as the One who will provide for you, protect you, and advise you in various matters, just as you would look to a husband to do the same. Look to God's Word for direction in that big decision you need to make. Wait upon Him for guidance in those smaller decisions, too. Trust God's promises, in His Word, to provide for you financially and otherwise when things get tight. Unlike an earthly husband, God has unlimited assets. (Psalm 50:10 tells us He owns the cattle on a thousand hills!) He has all the resources you will ever need when you get into a bind.
God is also all-knowing, so nothing takes Him by surprise. Furthermore, He isn't capable of making a mistake, so He'll never drop the ball. Plus, He's got perfect timing, so you don't have to worry about missing anything. Doesn't that already relieve a little bit of the relational pressure that might exist in your marriage? Instead of depending on your husband for everything, start putting things in God's hands. And if you're not married, doesn't that make you feel a little more secure already, knowing you're not alone—that you have Someone who can pick up the loose ends in your life and help you out?
3. Consider your life with God a partnership. If you're married, chances are you share just about everything from money to living quarters to possessions. The same works with being "married" to God, only it's more like everything belongs to Him, but He gives you access. Share with Him your time, your plans, your finances, your love, your thoughts, your concerns, your devotion, and your loyalty, and you will never have to worry that anything you give Him will be misused, abused, misplaced, or taken for granted.
---
Excerpted from
When Women Walk Alone
by Cindi McMenamin (Harvest House, 2008).
Cindi McMenamin, an award-winning writer and national speaker, is the author of Letting God Meet Your Emotional Needs. She is also a contributing author to several devotional books and Christian magazines. She is a director of women's ministries at a church in southern California, and has been actively involved in ministering to women for nearly 20 years.
Have something to say about this article? Leave your comment via Facebook below!
advertise with us
Example: "Gen 1:1" "John 3" "Moses" "trust"
Advanced Search
Listen to Your Favorite Pastors