Mary Magdalene: Witness of Christ's Resurrection
J. Lee Grady, Founder, The Mordecai Project
Thursday, March 28, 2013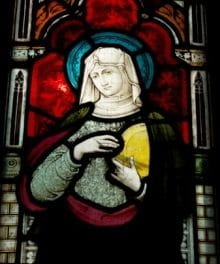 Adapted from Fearless Daughters of the Bible by J. Lee Grady. Copyright Chosen Books (a division of Baker Publishing Group, www.bakerpublishinggroup.com) copyright 2012. Used by permission. All rights to this material are reserved. Material is not to be reproduced, scanned, copied, or distributed in any printed or electronic form without written permission from Baker Publishing Group.
Mary Magdalene: Witness of Christ's Resurrection
The very first person to be commissioned was a woman. And she was commissioned to go to men to share her testimony...and then also to give His Word. I know there are some people who will draw a line and say I can give a testimony, but I can't share the Scripture. But Jesus didn't make that distinction. He gave Mary Magdalene both commissions, to share her testimony and to give out His word.
—Bible teacher Anne Graham Lotz,
daughter of evangelist Billy Graham
On Easter morning, after the Lamb of God had been sacrificed on Calvary's cross, the stone covering Christ's tomb was rolled away to reveal a profound sight. The two angels appeared on top of His grave to show us that the glory of God was now accessible to us. The Holy of Holies was no longer closed off. In the Temple, the veil was torn from top to bottom. Under the New Covenant, we can run to the mercy seat!
And who was the first to see this profound sight? Mary Magdalene—a woman who would have been considered an outcast by the religious community—got the first glimpse of this astounding revelation!
John 20 can be fully understood only if we compare it with the story of the Fall of man in Genesis 3 Notice the similarities:
1. There were two gardens. Man's Fall occurred in the Garden of Eden—a place of intimate fellowship with God. After Adam and Eve disobeyed Him, the Lord cursed the ground and banished them from Paradise. On Resurrection Sunday, Christ appeared in a garden (John 19:41 says Joseph of Arimathea donated a garden tomb to Jesus) to remind us that now, because of His redemption, intimate fellowship with God is available again. Jesus reopened the doors to Eden.
2. There were two women. Sin entered the world when a serpent deceived the first woman, Eve. On Resurrection Sunday, after Christ had defeated Satan through His atoning death, Jesus appeared first to a woman—one who had previously been in bondage to Satan's demons (seeJohn 20:14). Mary Magdalene is the New Testament counterpart to Eve. Her life reminds us that Jesus offers us total deliverance from the bondage of our past.
3. There were two gardeners. In the story of the Fall, Eve and her husband, Adam, the tenders of Eden, rebelled against God after she was deceived. On Easter morning, Mary Magdalene met a man outside the tomb who she thought was a gardener. When she realized it was Jesus she exclaimed, "Rabboni!," and began to embrace Him. The woman in the second story is with Christ, "the last Adam...the second man" (1 Corinthians 15:45-47). We now have this promise: "For as in Adam all die, so also in Christ all will be made alive" (1 Corinthians 15:22).
Have something to say about this article? Leave your comment via Facebook below!
advertise with us
Example: "Gen 1:1" "John 3" "Moses" "trust"
Advanced Search
Listen to Your Favorite Pastors