Mary Magdalene: Witness of Christ's Resurrection
J. Lee Grady, Founder, The Mordecai Project
Thursday, March 28, 2013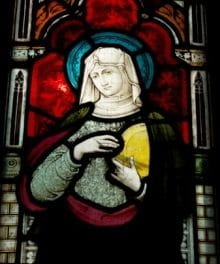 4. There were two sets of angels. After Adam and Eve fell into sin, God posted the cherubim with the flaming sword east of Paradise to keep mankind out (see Genesis 3:24 . On Easter morning, two angels appeared in the garden, not to banish mankind from God's presence but to invite us to behold the risen Messiah.
Why are there so many parallels in these two stories? The Holy Spirit wants us to know that in God's great plan of re-demption He unraveled Eden's curse. The death and res-urrection of Jesus reversed the effects of the Fall. While Genesis 3 describes pain, slavery to sin and alienation from God's presence, John 20 eveals healing, deliverance and full restoration of fellowship with the Son of God.
Women: You Have Been Commissioned
Why did Jesus choose to reveal Himself to Mary Magdalene after His resurrection? Why did He send her forth to the brethren as the first witness of His Good News? What does all this mean for women today?
We begin to answer these questions by noting how Je-sus again broke with tradition. In first-century Israel, women were not allowed to testify in a court of law: They were considered unreliable witnesses. Yet when Jesus was raised from the dead, and He wanted this fact proclaimed to the world, He first commissioned one of His women followers to spread the news.
I call this scene in John 20 "the great reversal." By using all this garden imagery from Eden on the morning of His resurrection, God made it clear that He was breaking the curse of sin that came on the earth after mankind's Fall. He was also saying that He has a new role for women to play in His plan.
Under the curse of sin, the woman—Eve—not only came under the bondage of sin in a general sense, but was placed at a disadvantage in her relationship with men. God told her that her husband would rule over her (see Genesis 3:16 . She would know pain, oppression, abuse and heartache. And she would also lose her voice. After the Fall, women did not exercise the authority that Eve enjoyed in the Garden.
Through the redemption of Christ, the woman got her voice back. Mary Magdalene was appointed to go and tell. She was commissioned to preach. Jesus did not limit her, restrict her or tell her to stay out of the pulpit. Instead, He ordained her to be a carrier of His glorious Gospel.
Women are no longer to be subservient; they are no longer relegated to suffer in silence in the face of abuse; they are no longer expected to blend into the background. Jesus has now called women to be His missionaries and His preachers.
This was dramatically illustrated on Easter morning, when Mary Magdalene was sent by Jesus to announce His Good News. Jesus did not pick Mary to be the first evangelist simply because she woke up earlier than the others that day. He was making it clear that, in Christ, there is "neither male nor female" (Galatians 3:28). Under the New Covenant, through the power of the Holy Spirit, both men and women can serve as ministers of His grace. And when He was raised from the dead, He commissioned His faithful disciple Mary Magdalene to blaze that trail for all women to follow.
Adapted from Fearless Daughters of the Bible by J. Lee Grady. Copyright Chosen Books (a division of Baker Pub-lishing Group, www.bakerpublishinggroup.com) copyright 2012. Used by permission. All rights to this material are reserved. Material is not to be reproduced, scanned, copied, or distributed in any printed or electronic form without written permission from Baker Publishing Group.
J. Lee Grady Is an author, award-winning journalist and ordained minister. The founder of the Mordecai Project, a ministry aimed at confronting the abuse of women around the world, he is also a leading International advocate on behalf of marginalized women. He and his wife, Deborah, have four daughters and live near Orlando, Florida.
Publication date: March 28, 2013
Have something to say about this article? Leave your comment via Facebook below!
advertise with us
Example: "Gen 1:1" "John 3" "Moses" "trust"
Advanced Search
Listen to Your Favorite Pastors