Praying Through Infertility
Lesli A. Westfall, Author
Friday, April 12, 2013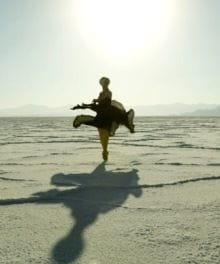 Excerpt taken from Dancing Upon Barren Land by Lesli A. Westfall ©2013 used with permission
What is Prayer?
Barren land is a sparse, dark landscape of rocks, boulders, and at times massive cracks. The rocks and boulders, which cause us to stumble, are the repeated negative pregnancy tests and the gritty sand is one of the many emotions such as jealousy, anger, or shame. Each month we hope and pray this will be the month only to experience disappointment again, our hopes like shifting sand beneath our feet. Then after a miscarriage, stillbirth, or early infant loss, we face a massive crack of grief. We are unable to escape the darkness.
How does prayer fit into the vast and varied landscape of infertility?
As we call out to God in prayer, we are strengthened enough to kick the rocks of negativity out of the way and to pass through with ease and confidence. When we sink in the sand of disappointment, our petitions make our feet stable as we ask Him to come alongside and be our support. When our hearts are broken from the loss of life in our wombs and when we have sunk into the crevice of grief, when all we can muster is a faint cry, He still sees and hears.
So how do we navigate through the barren land with prayer?
There are four essential elements to each prayer.
Praise
Thanksgiving
Praying the Word of God, the Bible
Asking in Jesus' name
Praise and thanksgiving in prayer express our heart's adoration and love for Him.
Enter His gates with thanksgiving and his courts with praise; give thanks to him and praise his name (Psalms 100:4).
The Bible explains itself in Hebrews 4:12:
God's Word is alive, active, and powerful (NLT).
When we pray His Word, we are praying His perfect, divine will. What He did for infertile or barren women in the Bible so long ago; Sarah, Rebekah, Hannah, Manoah's wife and Elizabeth--He can do for us!
Jesus Christ is the same, yesterday, today and forever (Hebrews 13:8).

God does not show favoritism (Acts 10:34).
The Lord Jesus Christ invites us to ask. Asking is for our benefit. We are told to ask, seek, and knock.
Ask and it will be given to you; seek and you will find; knock and the door will be opened to you. For everyone who asks receives; those who seek find; and to those who knock, the door will be open. Which of you, if your son asks for bread, will give him a stone? Or if he asks for a fish, will give him a snake? If you, then, though you are evil, know how to give good gifts to your children, how much more will your Father in heaven give good gifts to those who ask him (Matthew 7:7-11).
When we ask in Jesus' name, we glorify Him and He fills us with joy.
This is the confidence we have in approaching God; that if we ask anything according to His will, He hears us. And if we know that He hears us—whatever we ask—we know that we have what we have asked for (1 John 5:14-15).
The Bible and prayer are like nourishment for the soul and spirit. Prayer and Bible reading are like living water, which gives continual strength to continue the journey and increases faith to believe God for the desire of your heart: children.
Have something to say about this article? Leave your comment via Facebook below!
advertise with us
Example: "Gen 1:1" "John 3" "Moses" "trust"
Advanced Search
Listen to Your Favorite Pastors