Fathoming Biblical Womanhood May Require More Than a Year...
Kelly Givens, Contributing Editor to Crosswalk.com
Friday, November 09, 2012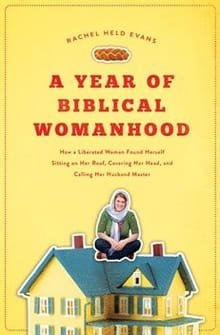 "[A]ny inconsistency in my hermeneutic is intentional and acknowledged, meant to point to the inconsistency of a patriarchal hermeneutic. (See some of my past posts on the subject to learn more, especially "Better Conversations About Biblical Womanhood Part 1 and Part 2" and "Complementarians are selective too.")" (5 Reasons You Should Read My Book Before Forming an Opinion About It, Rachel Held Evans, http://rachelheldevans.com/blog/5-reasons-read-first).
The thing is, readers shouldn't have to visit an author's blog to understand the message and intent of the author's book. Those things should be clear in the pages themselves. Evans has written a book criticizing the way the Bible is being interpreted by employing the same bad interpretation practices to prove her point. One reviewer called this "hermeneutical performance art." I just call it confusing.
Another difficult element was Evans' lumping together of extreme patriarchal figures with orthodox complementarian figures. Debi Pearl, author of Created to be His Help Meet, and Fred Phelps, pastor at Westboro Baptist Church (the church known for its virulence against homosexuals and picketing military funerals), are two such patriarchal voices, regularly called out by other Christians for their lack of biblical understanding. Yet Evans ties in their views to the complementarian views of John Piper, Wayne Grudem, Elizabeth Elliot, and others. It's clear Evans finds these people cut from the same cloth, but most complementarians are quick to condemn and distinguish themselves from these fringe patriarchal views of womanhood.
Mary Kassian, who runs the website Girls Gone Wise and has headed up much of the conversation on complementary roles for women, says this about the disagreement between patriarchy and complementarianism: "Nowadays, people regard patriarchy as the oppressive rule of men. 'Patriarchy' is regarded as a misogynistic system in which women are put down and squelched. That's why we rejected the term 'patriarchalism.' Complementarians stand against the oppression of women" (Complementarianism for Dummies, Mary Kassian, http://www.girlsgonewise.com/complementarianism-for-dummies/, July 3, 2012). By bunching such diverse viewpoints together, Evans creates a false dichotomy. She is leading readers to conclude that if you believe women have different roles than men at home and in the church, then you believe women are subservient and not equal to men.
The issue of "selective literalism" is real and both sides often play it to their advantage. So it's troubling that many who are quick to come down on Evans' hermeneutics seem reluctant to engage her regarding the elephant we all know is in the room: namely, why do many churches follow Paul's instruction that 1 Corinthians 14:34, but not his instruction that 1 Corinthians 11:5-10? What does the Bible really teach about women in leadership? What does submission mean? Evans addresses these issues, but they're eclipsed by her stories on keeping kosher and sleeping in a tent.
Have something to say about this article? Leave your comment via Facebook below!
advertise with us
Example: "Gen 1:1" "John 3" "Moses" "trust"
Advanced Search
Listen to Your Favorite Pastors