The "Just Friends" Dilemma
Felicia Alvarez, Crosswalk.com Contributing Writer
Tuesday, September 20, 2011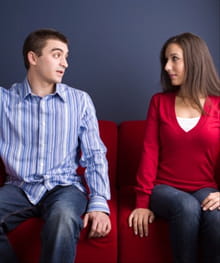 Young people today often become emotionally close with the opposite sex without considering any kind of commitment to protect that intimacy. And this undefined friendship trend—rooted in emotional promiscuity—yields negative effects. It's actually a contributing factor to the escalating "living together" rate, which is now at 7 million[1].
One reason today's couples drift into these pseudo-marriages is because they don't take the time to clarify their relationships and futures. So the "living together" trend often begins as a small seed of an undefined friendship. If we don't define our emotional boundaries with the opposite sex, it's unrealistic to expect that we would define physical boundaries. Definition matters a lot more than we think.
"Friends" in the Bible
In Scripture, undefined relationships between men and women were virtually non-existent. For the most part, relationships had specific definition and purpose. Jacob didn't ride up to Laban's house on a camel and say, "Come on Rachel, my friend, we're going to go hang out with some church people down at the river."
Most "friend" situations in the Bible ended up with disastrous results. Samson defined his "friendship" with Delilah as love, while she regarded him as nothing more than another coin in her pocket. The result? She betrayed him, surrendering him to the Philistines as a prisoner.
How does this apply to our relationships?
Now, this doesn't mean we should run from opposite-sex friendships. It just means that we should guard our hearts — and future marriages — by avoiding intimate one-on-one time with members of the opposite gender. Consider keeping your relationships with the opposite sex brotherly/sisterly, just like 1 Timothy 1 describes: "Treat older women as you would your mother, and treat younger women with all purity as you would your own sisters" (1 Timothy 5:2, NLT). A helpful way to do this is by asking ourselves three basic questions:
1. Would I say this to her if I were married to someone else?
2. Would I treat him like this if his wife were sitting here with us?
3. Would I write/type/text this to another man if my husband were watching?
"Above all else, guard your heart, for it is the wellspring of life" (Proverbs 4:23, NIV).
---
[1] Sharon Jayson, "Cohabitation numbers jump 13%, linked to job losses," January 27, 2011, USA TODAY. Accessed at usatoday.com
Felicia Alvarez is a twenty-something author who is passionate about reaching her generation for Christ. She graduated summa cum laude from Liberty University and is currently working on her second book which addresses the intersection of worldview and Christian relationships. Her mentor, Pam Farrel says, "Felicia is a talented new voice bringing wisdom to her generation." Actively involved in discipling youth in her community, Felicia speaks to youth and parents at church and homeschool events throughout the US .
Have something to say about this article? Leave your comment via Facebook below!
advertise with us
Example: "Gen 1:1" "John 3" "Moses" "trust"
Advanced Search
Listen to Your Favorite Pastors