To the Hurting Married Christian Woman: Why Women Stay
Elisabeth Klein, Crosswalk.com Contributing Writer
Thursday, June 14, 2012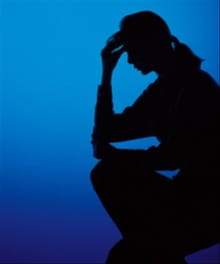 And five, we might like being the victim. I know, I know. That's mean of me to say. But I can only say it because I have been this person. I touted my sob stories like a security blanket. I even feared that I'd have nothing to think about or talk about if my marriage got better or if I weren't in a bad marriage anymore. And, and this is the saddest admission, people might stop cutting me slack if I didn't have this heavy burden to carry around anymore, and I was scared to have to live up to my potential and be a grown-up. (I still am, sometimes). So we might stay because leaving the hard thing opens us up to the possibility of joy and being free to live fully, and how in the world would we do that?
The woman I met, she asked me if there will ever come a day when she will be happy again. (Keep in mind, her divorce has been final for over a year and I'm not even divorced yet…so technically, she should be farther ahead in her healing process than I am). But I told her yes, there is happiness and joy out there and she can and will experience it; I told her there are good days and bad days but I'm feeling more good ones already. She followed up my sentence with, "Yes, but, my husband still lives in our home with his new girlfriend and her three dogs and…" And it occurred to me that this woman will more than likely never be happy. She probably never was. And she probably never will be. Because she's a 'yes, but…' kind of woman. An excuse around every corner, a retort already formed on her lips for your every suggestion. So, for her, no, there probably is no happiness coming, unless…
Unless she gets to a place of moving on, of forgiving her husband, of realizing she stayed and that God did not make her or do that to her, and of actually wanting to be happy and experience joy and peace. Until then, she will have the same conversation and ask the same question to the next person who comes her way. In fact, she probably moved on from me and went to someone else moments later, telling the same story.
I don't say these things to be unkind. I say these things as a two-fold reminder to myself. One, you can only help who wants to be helped (and you shouldn't waste your time and breath on those who don't). And two, I used to be that person, I still can be that person, but the healthier part of me no longer want to be that person (most of the time, on my better days). When Jesus whispers to me, "Do you want to be made well?" I want my answer to be 'yes, please' each and every time from this day forward.
Elisabeth K. Corcoran, 2012
Elisabeth is mom to Sara (15) and Jack (13). She loves spending time with her kids, her friends, reading and writing. She is the author of At the Corner of Broken & Love: Where God Meets Us in the Everyday (Westbow), One Girl, Third World: One Woman's Journey into Social Justice (Kindle, Amazon), He Is Just That Into You: Stories of a Faithful God who Pursues, Engages, and Has No Fear of Commitment (WinePress), In Search of Calm: Renewal for a Mother's Heart (Xulon), and Calm in My Chaos: Encouragement for a Mom's Weary Soul (Kregel). All these books can be purchased on Amazon.com in paperback or Kindle.
Visit her website at www.elisabethcorcoran.com and her blog at http://elisabethcorcoran.blogspot.com/.
You can follow her on Twitter at ekcorcoran or friend her on Facebook at http://www.facebook.com/people/Elisabeth-Klein-Corcoran/1301703500.
Watch Elisabeth and her friends spread hope through Africa with Samaritan's Purse at http://www.vimeo.com/7919582.
Elisabeth is a proud Member of Redbud Writer's Guild (www.redbudwritersguild.com).
Publication Date: June 14, 2012
Have something to say about this article? Leave your comment via Facebook below!
advertise with us
Example: "Gen 1:1" "John 3" "Moses" "trust"
Advanced Search
Listen to Your Favorite Pastors