Always Write Your Plans in Pencil
Len M. Allen, Author, Unemployed: Life in the Wildernes
Wednesday, December 28, 2011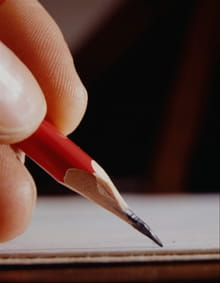 Isn't that what it means for Him to be "Lord"? Anyone who has gone through a long period of unemployment has experienced how the Lord can take our lists of desires, hopes, dreams, and rewrite them to match His plan for our lives.
Jeremiah 29:11 clearly states that God has plans for His people. But He doesn't necessarily give us the details in advance. In fact, He has never given me the details in advance! When He called Abraham to leave his home the Lord basically said, "Start traveling; I'll tell you when you get there (Genesis 12:1)." Abraham might have made a list of plans and even potential destinations but God wrote in the details - making changes where He saw the need.
As we walk through our lives we should definitely make our plans, make our lists, but we should write those plans in pencil - so that as God leads us through the daily details and reveals His desires, we can easily make adjustments. Just erase that next item and pencil in a new plan based upon how the Lord is leading. Making plans and setting goals and then demanding that God honor and fulfill them or else doesn't allow for His will to take us where He desires. It is important for each of us to acknowledge that God is not required to live up to our expectations. Rather, we are commanded to live up to His.
Changing the plans of life when written in pencil is much less stressful than when we cling to our list of goals as if they were written in permanent marker. May God bless you as you daily adjust your plans to match up with "the way" God is leading your life.
Come now, you who say, "Today or tomorrow we will go
to such and such a city, and spend a year there
and engage in business and make a profit."
Yet you do not know what your life will be like tomorrow.
You are just a vapor that appears for a little while
and then vanishes away. Instead, you ought to say,
"If the Lord wills, we will live and also do this or that."
James 4:13-15

Commit your works to the Lord And your plans will be established. Proverbs 16:3
Originally posted May 7, 2010.
---
Born and raised in South Dakota, Len Allen began college at South Dakota State University. He transferred to the University of Hawaii in Honolulu where he attended for 3 years majoring in commercial art and art history. In 1972 he graduated from Sioux Falls University back in his home state of South Dakota.

He returned to Hawaii where he began his career as a ditch-digger and met his wife, Beverly. Because of Bev's influence, Len went from ditch-digger to corporate Vice President within one and a half years and his career was off and running. They have lived and worked in Hawaii, California, South Dakota, Tennessee, New Mexico, and Texas and are now back in their old home of Chattanooga. They have been married 36 years and have a 21 year-old son attending college.
Have something to say about this article? Leave your comment via Facebook below!
advertise with us
Example: "Gen 1:1" "John 3" "Moses" "trust"
Advanced Search
Listen to Your Favorite Pastors