Are You Driven or Called?
Kevin & Kay Marie Brennfleck, Career Coaches
Wednesday, March 21, 2012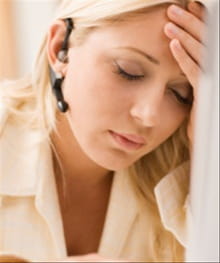 In those moments when we glimpse what it means to live as a called person, we can echo MacDonald's words:
Having listened to God's call, I can know my mission. It may demand courage and discipline, of course, but now the results are in the hands of the Caller. Whether I increase or decrease is His concern, not mine. To order my life according to the expectations of myself and others; and to values myself according to the opinions of others; these can play havoc with my inner world. But to operate on the basis of God's call is to enjoy a great deal of order within (MacDonald, p. 65).
God's love, grace and truth enables us to exchange our frenetic life of achievement, acquisition and activity for a life centered on pleasing our Audience of One.
Strategies for Living as Called, not Driven People
The following are some strategies that can help us in the quest to invest our time in the things that matter:
1. Scrutinize your schedule. Take a large sheet of paper and divide it into five columns. In the first column, list all of your activities and commitments in a typical month. (If you have a spouse and/or children, make this a family activity with each family member adding to the list).
In the 2nd column, write down the amount of time it requires each week (include driving time, preparation time, etc.). In the 3rd column, write down why you (or another family member) are doing the activity. In the 4th column list the "pros" of doing this activity; in the 5th column the "cons." (The pros and cons should take into account the impact on both the individual and the family.)
2. Evaluate your activities with at least one other person. We often are too close to our lifestyle choices to see them clearly. Your partner, or small group, can provide helpful insight and feedback. Together, address questions such as: Are there any activities that you (or your family) should remove from your schedule? And, are there any activities you should add? For example, does your schedule have sufficient time built in for building relationships with your family and friends? Is there time for growing your relationship with God, and worshipping him? Is there time for providing spiritual training for your children? Is there time for serving others in your church, neighborhood and community? Is there adequate time for renewal and relaxation?
3. Re-create your schedule based on God's priorities for your life. God gives each of us enough time to do all the things he wants us to do. Ask the Lord to help you (and your family) create a schedule that reflects the life he intends you to live. God may very well be calling you to do less, not more! This is not an easy process; you may feel like you are in uncharted territory.
In the book, When I Relax, I Feel Guilty, Tim Hansel describes our condition of suffering "from a nagging sense of guilt that no matter how much [we] do, it is never quite enough….Words like wonder, joy, rest, and freedom have become faded replicas of what Christ taught. Time becomes a tyrant instead of a friend."
4. Commit your schedule and intended activities for the day to God each morning. Ask the Holy Spirit to guide you in making wise use of your time that day. Review your mission statements and Action Plan. Ask God to enable you to live your calling "24/7" each day.
The Great Count Down
The way we spend our days is the way we spend our lives. Let us join with the psalmist in praying, "So teach us to number our days, that we may present to You a heart of wisdom…. And confirm for us the work of our hands; Yes, confirm the work of our hands" (Psalm 90:12, 17 NASU). God gifts us "24/7" with a new day; 24 invaluable, irreplaceable hours of time to manage. We need guidance from the Creator of time so that we use the hours of the day to live our callings, and not run by or away from them.
Have something to say about this article? Leave your comment via Facebook below!
advertise with us
Example: "Gen 1:1" "John 3" "Moses" "trust"
Advanced Search
Listen to Your Favorite Pastors