Creative Avenues: Program Helps Christian Art Students Thrive in the Industry
Paul Glader, WORLD News Service
Friday, April 01, 2011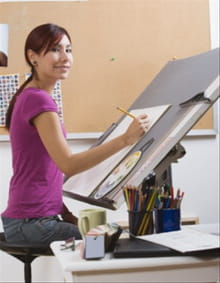 (WNS)--Futuristic towers sculpted from chicken wire and plastic wrap loom over Marika Dahlin's desk, where she doodles soulful creatures on a sketchpad. "I'm working on structures and form and trying to make something visibly pleasing," said Dahlin, 22, and a junior visual arts major at Biola University in California. She's not sure if the towers represent skyscrapers. But when asked if her illustrations are influenced by filmmaker Tim Burton, she smiles and says, "Yes. I really like his work."
Dahlin and 16 other students from Christian colleges around the United States are taking classes in art, design, and writing this semester at the New York Center for Art and Media Studies (NYCAMS). A Manhattan outpost of Minnesota's Bethel University, the center places junior- and senior-level college students in internships and classes.
"We show them the world they're about to enter," said Brent Everett Dickinson, an assistant professor at NYCAMS and a Brooklyn-based artist.
NYCAMS has Christian roots and it serves Christian students. A group of New York City artists at The Village Church in Manhattan a decade ago realized they'd taken solitary paths to the fine art world. Dickinson said they talked, prayed, and dreamed about starting a program to host, train, and mentor art students from Christian colleges. They wanted to help those who might have talent and training to obtain the connections, critique, and refinement of a large art hub.
John Silvis, a fine art photographer and former art consultant for Citibank, served as a visiting professor at his alma mater, Bethel University, in 2004. He proposed the school start NYCAMS. "It sounded wonderful but seemed unlikely we could pull it off," said Wayne Roosa, the art department chair at Bethel. But top administrators liked and supported the idea. Now "it fills a huge need for art students coming from small schools," said Roosa.
Silvis, Dickinson, and others launched NYCAMS in the fall of 2004 and hosted the first 11 students in 2005. Since then, they have taught about 230 students. The professors say they aim to teach students to engage contemporary art in the context of Christian thought and the idea that they are to live and work as "creators made in the image of God."
"I think all artists acknowledge the creative process and realize it is coming from a spiritual place," said Silvis. "In that way, I think being a Christian in the art world is really not that complicated."
What is complicated, he says, is to learn the disciplines of studio work, a critical view of art, and the nuances of building relationships in the art world. After his own undergraduate education at Bethel and graduate school at the Academy of Fine Arts in Vienna, Silvis had a steep learning curve when he moved to New York in 1994. He applied to work with artists he admired like William Wegman, but found no way in. Instead, Silvis worked as a guard at Dia Art Foundation in Manhattan as he developed his own work.
Although he had solid academic training and eventually won awards and had shows around the world, he didn't initially know how to approach galleries, to meet curators, or to live as a professional artist: "Even though I was ambitious, on some level I had a romanticized, naïve view of how it all worked."
With NYCAMS, students take classes, work on their own art, serve in an internship, and visit museums, galleries, and events to help them understand—from professors, peers, and professionals—how the art industry works. The students come from schools in the Council of Christian Colleges and Universities such as Bethel, Biola, Westmont, and Messiah College. They live in apartments in Long Island City in Queens and spend most of their time at NYCAMS' studio and gallery space in the north Chelsea section of Manhattan on a street sometimes called the "flower district" for its many florists.
Have something to say about this article? Leave your comment via Facebook below!
advertise with us
Example: "Gen 1:1" "John 3" "Moses" "trust"
Advanced Search
Listen to Your Favorite Pastors