Do You Have What It Takes To Work From Home?
Sarah Hamaker, Crosswalk.com Contributing Writer
Tuesday, April 09, 2013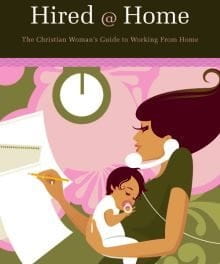 Will you be able to cut back on some of the activities you enjoy doing to devote those hours to your business? Can you extract yourself from volunteer or church commitments at least while you're getting settled into your at-home work? Do you really want to sacrifice play group or soccer practice for conference calls? If you have preschool age children, are you ready to consider childcare options if necessary? If not, will you really have time to fit work into your daily schedule of caring for young children?
"I thought having a baby would just mean I would have to work while he was sleeping," says Lenore Ealy, who does consulting work for philanthropic organizations out of her home in Carmel, Indiana. "However, it didn't quite work out that way and I ended up working in the middle of the night when my son was little."
To see exactly how much time you could conceivably give to a job, keep a time journal for at least a week. Each day, from the moment you open your eyes until you close them at night, write down your activities in fifteen minute increments if applicable. Try to be as accurate as possible. You will be amazed at how quickly time flies—tasks you thought took only a few minutes can really take much longer.
Suzy is a stay-at-home mom with two children, ages four and two. Take a look at a typical day in her life.
Suzy Q's Tuesday Time Journal

7:30 a.m. Get up, make bed, get children up, make breakfast

8 a.m. Eat breakfast, read the newspaper

8:30 a.m. Help children get dressed

8:45 a.m. Family devotions

9 a.m. Wash breakfast dishes

9:15 a.m. Shower and dress

9:45 a.m. Sort laundry, start first load

10:15 a.m. Check email, make phone calls

10:45 a.m. Put first load of laundry into dryer, start second load

11 a.m. Run errand

11:45 a.m. Fix children's lunch

12:15 p.m. Fix and eat own lunch

12:30 p.m. Wash lunch dishes

12:45 p.m. Finger puppet show for children

1 p.m. Take children outside for a walk

1:30 p.m. Fold and put away first load of laundry, put second load in dryer, start final load

2 p.m. Get children down for rest/nap time

2:15 p.m. Work on volunteer project for local historical society

3 p.m. Fold and put away second load of laundry, put final load in dryer

3:15 p.m. Finish working on volunteer project

4 p.m. Fix snacks for kids

4:30 p.m. Fold and put away final load of laundry

4:45 p.m. Play with children

5 p.m. Dinner preparation

5:30 p.m. Husband home, talk about day

6 p.m. Dinner

6:30 p.m. Wash dinner dishes

7 p.m. Bedtime preparation for children

7:30 p.m. Bedtime for children

8 p.m. to 10 p.m. Watch television and relax

10 p.m. Get ready for bed

10:30 p.m. Bedtime
Once you have a week's worth of time charted, examine it to see where you might have "time wasters," those chunks of time that don't really accomplish much at all. For me, time wasters include spending too much time reading the morning newspaper, taking long showers, constantly checking email, surfing the Web, watching television, and indulging in the occasional afternoon nap. These things in and of themselves are not bad, but they can gobble up time quickly. Sometimes I find myself falling behind in my household chores or freelance writing assignments wondering where the time went.
You'll probably spot pockets of time you could dedicate to working from home. If you are looking for full-time, at-home work, you need to either find a job or business where you can work odd hours or restructure your day to accomplish your job during the normal business hours of nine to five.
To free up more time, you might need to get up earlier, go to bed later (don't neglect your sleep, though!), schedule errands differently, stop watching television or DVDs, or curtail the time you spend in chat rooms or online in general.
Have something to say about this article? Leave your comment via Facebook below!
advertise with us
Example: "Gen 1:1" "John 3" "Moses" "trust"
Advanced Search
Listen to Your Favorite Pastors