Help Wanted: Devotions for Job Seekers
Aaron M. Basko, Educator
Tuesday, April 16, 2013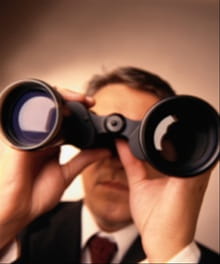 Excerpt taken from Help Wanted: Devotions for Job Seekers, Copyright 2012 by Aaron M. Basko. Published by Judson Press, Valley Forge PA. Used with permission.
The phrase "Help Wanted" gives hope to job seekers everywhere as they read it online or see it on a sign, but it also describes how we can approach God during this time of transition. The goal of this book is to challenge you to look at your job search the way God views it. Rather than an awkward pause in your career that makes you panic, a job search can be a chance for God to guide you toward what you were created to do, and for God's glory to show through in your life.
The world is not always kind to job seekers. The market can be incredibly tough for new graduates looking for a first opportunity. It can be just as bad for experienced workers who lose a job or find themselves in an unsustainable situation. But I am convinced that God wants to make the most of this unique time in your life. If you know Jesus Christ, and you can trust him to guide you, your search can result in God's glory for your good.
Yes, a job search can be a stressful time, but it can also be a time of great growth and exploration as the Lord teaches you more about his purpose for your life. Let the devotions in this book provide the help you want—to energize, equip, and encourage you for your big leap!
In the Hope of Glory
All this is for your benefit, so that the grace that is reaching more and more people may cause thanksgiving to overflow to the glory of God. —2 Corinthians 4:15
The world's message is that your value depends on position—your job title, annual income, and academic degree. According to this way of thinking, the job hunt is something to be ashamed of, perhaps because it suggests that you can't inspire employers to come looking for you. But why do those of us who belong to Jesus fall for this? After all, we believe that the Son of the living God died on a cross to show how much we are worth to him. Jesus did so without checking any credentials, giving up his own position in glory without regard for any of our accomplishments, or lack of them.
In an even bigger gamble, Jesus entrusted his kingdom to a ragtag group of rough fishermen, corrupt tax collectors, and religious extremists who deserted their leader right before the cross. Your résumé looks great compared to those of the twelve disciples! Why should we be ashamed of our talents, our hopes, and our efforts to discover the work for which we were created when God was willing to take such wild risks on us?
Remember the example of Jesus, who gave up a throne in heaven's glory to sojourn with us on the dusty roads of first-century Judea? Is it possible that this trying time in our professional lives, when the job market deals out plenty of black eyes, can actually become a time of triumph? Can it be a time when we hear God's voice more clearly and when God's glory shines through our situation? Romans 5:2-5 says: "We boast in the hope of the glory of God. Not only so, but we also rejoice in our sufferings, because we know that suffering produces perseverance; perseverance, character; and character, hope. And hope does not put us to shame, because God's love has been poured out into our hearts through the Holy Spirit, who has been given to us."
We can count on God's promise that we are reaping benefits from our trying time. The Romans 5:2-5 passage above may seem scary because it explains that often it is suffering that matures us and grants us unshakable hope. If you are reading this book, however, chances are you are already suffering through the challenges that come with the job hunt. Therefore, you can be sure that the "good stuff" promised in this verse—perseverance, strong character, and God's hope, which does not disappoint—is on its way if you are seeking the Lord's will as diligently as you are seeking new employment.
Have something to say about this article? Leave your comment via Facebook below!
advertise with us
Example: "Gen 1:1" "John 3" "Moses" "trust"
Advanced Search
Listen to Your Favorite Pastors