Help Wanted: Devotions for Job Seekers
Aaron M. Basko, Educator
Tuesday, April 16, 2013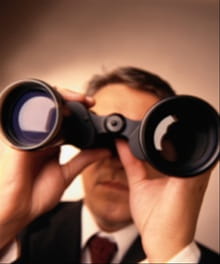 As you take on the challenges of the job search, be on the lookout also for what God is doing. If your eyes are open, you will see the Lord's glory shine through for your good!
One Small Step for Today
One of the first steps of a job hunt is compiling an up-to-date résumé detailing your education, skills, work history, and other experience. Imagine the great Bible heroes, such as Moses or Esther, Paul or Mary Magdalene, writing their own résumés. How would those résumés have looked before they discovered God's purpose—and then after? Now look at your own résumé. Highlight any area that may be a barrier to finding meaningful work—lack of education, experience, or skills. How might the Lord receive glory in these areas of weakness or lack?
Buried Treasure
I will give you hidden treasures, riches stored in secret places, so that you may know that I am the Lord. —Psalms 112:4-5, NIV
God has quite a reputation for redeeming good things out of bad situations. The Lord's great love for us is powerful enough to transform any situation. From the terrible choice of Joseph's brothers to sell him into slavery, God made provision for many nations during a time of famine (Genesis 45:4-8). From his rejection by the world, Jesus was established as cornerstone of God's reign on earth (Matthew 21:42). From the persecution of the early church, God accomplished the spread of the gospel (Acts 8:1-4). In my own life, out of the challenges of a difficult job search, God blessed me with the words and insights for this book.
I had been in the job hunt for a while and was frustrated that things weren't moving faster. My mother, who loves devotional books and often gives them as gifts, mentioned that she had been looking unsuccessfully for a devotional that would be helpful for someone searching for a job. She joked that I should write one. I laughed at the time, but the Lord must have used her comment to plant a seed in my mind, because after that I began to see God's hand everywhere in my search. Not that I suddenly found a job— I didn't—but God sent me events and people to encourage me and help me see a bigger perspective. Somewhere along the way, it dawned on me that if I shifted my focus outward to perceive how the Lord could use this experience to bless others, I might find buried treasure.
The book of Proverbs says that "those who refresh others will themselves be refreshed" (Proverbs 11:25, NLT). I began to see my obstacles as opportunities to help other people. Every time the Lord taught me something about my search, I asked myself, "Is this something that someone else could use?" I wrote these thoughts down, along with the Scripture verses that encouraged me. As I explored each new thought God laid on my heart, I began to think of the words as personal gifts from the Lord to me, gifts that one day I could give to bless someone else. Years later that has come true.
The principle at work here is at the heart of many clichés: rain makes the flowers grow; when life gives you lemons, make lemonade; every cloud has a silver lining. In Matthew 12:35, Jesus says, "A good person produces good things from the treasury of a good heart" (nlt). With Christ inside you, you have all the good you need to create something meaningful from your situation. Ask God how your challenge can serve others. Maybe this is an opportunity to volunteer your time and talents or invest in neglected relationships. Maybe God is fortifying you to be someone's mentor or career counselor—take good notes! Pray for eyes to see where the Lord has hidden treasure for you; then listen for what God would have you do in response.
One Small Step for Today
Want a fun way to identify the most important aspects of your job search? Open your electronic résumé and copy the descriptive part (not the personal data) into free online "word cloud" software, such as Wordle or TagCloud. These programs create a visual picture of your information based on how frequently words appear. Do the largest words match the job descriptions you are considering? Are they the skills you want to use? If not, consider modifying your résumé to integrate words that reflect who you are and what is most important to you.
Aaron M. Basko is Assistant Vice President for Enrollment Management at Salisbury University in Maryland, where he oversees Career Services, Admissions, and Financial Aid. He has also served as a university instructor for Personal Career Management. Aaron speaks for schools, homeschool groups, churches, and the media, and has written for a number of higher education and career-oriented publications. Visit his website at www.aaronbasko.com.
Publication date: April 16, 2013
Have something to say about this article? Leave your comment via Facebook below!
advertise with us
Example: "Gen 1:1" "John 3" "Moses" "trust"
Advanced Search
Listen to Your Favorite Pastors