How Christian Business Owners Can Guard Against the Dangers of Isolation
Steve Hoeft, Cat Knarr
Thursday, May 15, 2014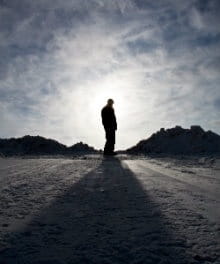 It was 3 a.m. during an awful thunderstorm in 1995 when Mark Whitacre decided to take his leaf blower outside and clear off his driveway, while still dressed in his business clothes.
"You need to come back into the house," his wife Ginger called at him, as Mark would later recall in his testimony speech. "You need to come back to your family. More than anything, you need to have God in your life."
"Who needs God?" Mark replied. "I am going to be the next president of the 56th largest company in America."
At that point, Mark Whitacre had been working undercover for the FBI for nearly three years to expose history's largest price fixing conspiracy. During the day, he wore a wire and pretended to be a loyal executive for Archer Daniels Midland. Then at night, he reviewed what he had uncovered with the FBI.
It's a story that later became the subject of "The Informant" 2009 movie starring Matt Damon.
Faith Driven Business had the opportunity to hear Mark Whitacre's redemption story at the St. Louis Prayer Breakfast with Christian Business Men's Connection (Mark is a Marketplace Ambassador for CBMC). At the time of his undercover work, Mark was not a dedicated Christian. Yet in the aftermath of the investigation, something amazingly unexpected happened. But more about Mark's testimony later.
How Isolation Drove FBI Informant Mark Whitacre to the Edge of Sanity
The problem was, Mark Whitacre was not a trained FBI agent. He was a Fortune 500 executive who only started working with the FBI to report his company's corporate crimes. But because of the secretive nature of the investigation, Mark couldn't talk about it to a counselor. Only later, after two suicide attempts, did Mark learn he had bipolar disorder and had gone untreated.
Mark Whitacre was completely isolated during this very intense time. And that isolation took a toll on many areas of his life, including:
His mental health as he struggled with bipolar disorder
The poor decisions he made under stress, including stealing money from ADM to protect himself financially (without consulting his family or the FBI)
His family relationships as he traveled internationally for his job and carried the psychological burden of working for the FBI
"I did not know if I worked for the FBI or for ADM," Mark recalled in his testimony speech. "I was totally confused and spiraling out of control, almost like a nervous breakdown."
If Mark could have opened up to someone, he might have saved himself and his family a great deal of pain and avoided a nearly decade-long prison sentence for his theft.
How Christian Entrepreneurs Guard Against the Dangers of Isolation
People know when they are living a phony life, acting one way at work and another way at home. That life is hell.
For Mark, it was worse. As he said in his testimony speech, he was building up the company during the day and tearing it down at night.
A lack of faith and friends left him empty. As Mark looks back today, he remarks that those days when he thought he had everything, he was actually living as if he were behind bars; then when he gave his life to Christ in prison, it was the beginning of his life.
So what made the difference?
Mark was horribly isolated before he found Christ. There are many lessons for the rest of us, but here are two:
1). Do you work to glorify God or yourself?
Mark relied on himself, and we know how that worked out. But compare his attitude that of Jesus, who said, "I know where I came from and where I am going" (John 8:14). Jesus knew his purpose, passion, and mission. At the end he was able to say to his Father, "I have brought you glory on earth by finishing the work you gave me to do" (John 17:4).
Have something to say about this article? Leave your comment via Facebook below!
advertise with us
Example: "Gen 1:1" "John 3" "Moses" "trust"
Advanced Search
Listen to Your Favorite Pastors