How to Deal with Unemployment
Jennifer Slattery, JenniferSlatteryLivesOutLoud.com
Thursday, September 20, 2012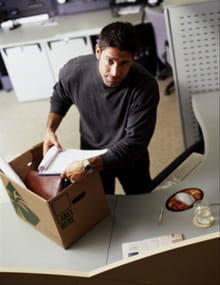 About six years ago, our family went through a period of unemployment. Fear and bitterness consumed me, and although I knew in my head I needed to cling hard to God, my heart propelled me in the other direction. Through that experience I learned that God is good even when life is hard, and His love is greater than our emotions.
In the Christian community, it's easy to lump all negative emotions as sin. We read commands to rejoice during trials and assume depression is failure, but biblical joy is not a temporary, surface emotion. According to John C. Hutchinson, author of Thinking Right When Things Go Wrong, "The biblical teaching of joy or rejoicing has more to do with confidence in one's convictions than it does with emotion." Joy is a deep assurance that God is good even when life is not. This is not an emotional stance, but instead, a choice of belief.
Emotions aren't good or bad. Throughout Scripture we read accounts of faith-filled men and women continually used by God who went through periods of depression and experienced intense anger. Elijah grew depressed and wanted to die. In the Psalms David expressed moments of great pain. Job poured out his heart in an expression of raw, honest emotions. He even accused God of hunting him down like a lion. Yet God didn't condemn Job, but instead, reminded Job of his limited understanding.
Be honest. God already knows how you feel and what you're thinking anyway. Praying through your feelings will help draw you to God.
We may wonder: "Is it okay to be mad at God?" This makes me think of my relationship with my daughter and the countless times she's been mad at me.
When our daughter was eight we moved and it hit her hard. One day, she scrunched her pudgy face, balled her fists and yelled, "I hate you!"
That hurt. A lot. Not because of her words, but because I saw the pain beneath them. What I wanted most was not to scold her, but to hold her. To draw her into my arms and to comfort her with my love.
Psalms 103:13-14 tells me God feels the same about us:
As a father has compassion on his children, so the LORD has compassion on those who fear him; for he knows how we are formed, He remembers that we are dust.
Draw near to God and resist the urge to pull away.
Emotional pain, whatever the cause, has a tendency to lead to isolation. No matter what we are going through, no matter how we may feel, God wants to be our all-in-all. He wants us to draw near to Him, trusting in His love and unfailing nature, even if everything we see points to the contrary. James 4:8 makes us a promise: "Draw near to God and He will draw near to you."
Whether we feel Him or not, God is there. He won't leave, no matter how much we rant or rave.
Drawing near to God during our times of trial helps, but often it's not enough. It's also important not to isolate ourselves. God placed us in a family of believers for a reason. His desire is that we would turn to one another during our time of need. The world values independence, but God encourages interdependence.
Ecclesiastes 4:9-10 reminds us of the importance of living in community—of leaning on others during our time of need:
Have something to say about this article? Leave your comment via Facebook below!
advertise with us
Example: "Gen 1:1" "John 3" "Moses" "trust"
Advanced Search
Listen to Your Favorite Pastors