How to Deal with Unemployment
Jennifer Slattery, JenniferSlatteryLivesOutLoud.com
Thursday, September 20, 2012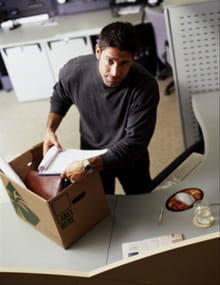 Two are better than one, because they have a good return for their labor: 
If either of them falls down, one can help the other up. 
But pity anyone who falls and has no one to help them up.
When dealing with unemployment, this can be hard. We live by an unspoken, faulty belief that says, "If you work hard, you'll find success." But the Bible says differently and promises we'll experience difficulty. Yet, no matter what happens, everything is first filtered through the hand of a loving God. Which means every tear and heartache has a purpose.
We know this intellectually, but that truth can be hard to grasp. It's easy to assume God is somehow against us or we are being punished for some unknown sin.
I believe this view comes from a misunderstanding of the word discipline. The Bible tells us that God disciplines those He loves, and in our "time-out" world, we've come to equate discipline as punishment. But the word itself, paideuo in the Greek, means "a child under development with strict training" – properly, to train up a child (país), so they mature and realize their full potential (development).
When I think of God's discipline—His training to maturity—I remember my time as a track coach. I had two types of athletes: those who came to spend time with friends and those who came to win. During practice, I focused on those who wanted to win, and I pushed them hard, watching them closely, driving them to their brink in order to bring out their best.
Intentionally focus on the unchanging nature of Christ. God is a God of mercy, love, and truth who always does what is right. His every action is rooted in love because He loves us deeply and is intimately involved in our lives. His goal is not to break us, but instead, to raise us up like a prize athlete, victorious and free. Like Job, we may not always understand why we must go through trials like unemployment. We may react with intense anger and despair, but God remains faithful and promises to carry us through it. Knowing this allows us to be honest and authentic with our emotions, and to draw near to God in confidence, knowing He's on our side.
Jennifer Slattery lives in the midwest with her husband and their teenage daughter. She writes for Christ to the World Ministries, the ACFW Journal, the Christian Pulse, and Internet Cafe Devotions. Her work has appeared in numerous publications and compilation projects. Visit her online at Jennifer Slattery Lives Out Loud.
Publication date: September 20, 2012
Have something to say about this article? Leave your comment via Facebook below!
advertise with us
Example: "Gen 1:1" "John 3" "Moses" "trust"
Advanced Search
Listen to Your Favorite Pastors