How to Share Christ in the Workplace
Whitney Hopler, Crosswalk.com Contributing Writer
Thursday, June 13, 2013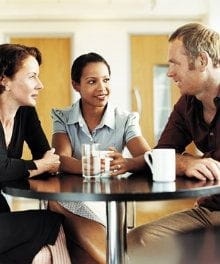 Editor's Note: The following is a report on the practical applications of R. Larry Moyer's book, Show Me How to Share Christ in the Workplace (Kregel, 2013).
If you're a Christian, your job isn't just a job. It's a ministry that God has called you to do for His kingdom, no matter what type of work you do. Your efforts in the workplace have eternal value when you use the time you spend there to be the best witness you can be for Jesus Christ.
When non-Christians notice good character in your attitudes and actions on the job, they'll want to discover more about how you've become a strong person. When you take advantage of opportunities to talk with those you work with about the relationship you have with Christ, they'll want to discover more about how He can change their lives, too.
All too often, though, people hesitate to talk about their faith at work because they don't know how to do so effectively. Sharing your faith in Christ on the job isn't as challenging as you may think. Here's how you can do so well:
Pray regularly. Make it a daily habit to pray for the Holy Spirit to empower you to share your faith effectively with the people you interact with at work. Pray for: plenty of opportunities to share your faith, the courage you need to overcome fear, protection so you'll be safe from evil while sharing your faith, success in spreading the Gospel message, and the salvation of the people with whom you share your faith.
Recognize opportunities. God will likely present you with a variety of opportunities to get to know people from your workplace and develop personal relationships with them. As you earn their trust, they'll become open to talking with you about their lives, which can lead to discussing faith. Opportunities include conversations during lunch breaks, carpooling, and special events. You can follow up on people's sincere comments that indicate spiritual searching by offering to give or loan them Christian literature that explores their questions.
Let your life support your message. The way you live should support the Gospel message that you communicate, so people will take what you say seriously. Ask God to help you live in a way that draws the people you relate to at work closer to Christ rather than driving them farther from Him. Ask yourself these questions to determine if you're living the kind of life you should be living: "Am I a good worker?", "Do I act and react with self-control?", "Do I tell the truth?", and "Do I live consistently?"
Pay attention to your words. The words you choose to communicate with when speaking or writing on the job contain tremendous power to either help or harm people. So be careful, not careless, with your words in the workplace. Do your best each day to choose words that are graceful, truthful, wholesome, compassionate, and that motivate people to seek God more.
Turn conversations toward spiritual issues. As you talk with people at work about what's going on in their lives, God will give you opportunities to naturally transition from talking about secular issues into discussing spiritual issues. Start by simply plowing into conversations that you and other people mutually enjoy (such as about your families, jobs, or backgrounds) and trusting the Holy Spirit to inspire and guide you to move from talking about secular issues to spiritual issues, and then from discussing spirituality to presenting the Gospel message.
Explain sin and repentance to people who may not yet understand those concepts. If people don't realize that their sin has separated them from a holy God, they won't be able to understand their need for Christ. So when talking with coworkers about their spiritual lives, compassionately explain that sin means missing God's mark and rebelling against Him, that all human beings struggle with sin in this fallen world, and that God stands ready to meet them wherever they are and help them grow. Be sure to tell them that repentance: is essential to salvation, works in cooperation with faith, and doesn't depend on any emotional response to sin (such as crying) but instead leads people to change their minds about sin.
Have something to say about this article? Leave your comment via Facebook below!
advertise with us
Example: "Gen 1:1" "John 3" "Moses" "trust"
Advanced Search
Listen to Your Favorite Pastors