Impacting the Next Generation
Os Hillman, President, Marketplace Leaders
Tuesday, December 17, 2013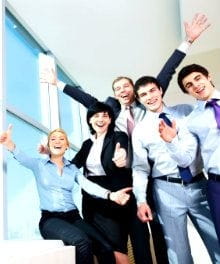 If we are going to impact future cultures, we will need young people who have a vision for what can happen when they enter into their destinies with a motive to solve problems and be used of God.
Many of today's next generation operate from no moral absolutes. George Barna defined those born between 1984 and 2002 as the Mosaic Generation, because they're "very mosaic in every aspect of their life... There's [no attribute] that really dominates like you might have seen with prior generations."
They are comprised of nonlinear thinkers who cut and paste their beliefs and values from a variety of sources. In a 2009 Barna Group survey, Barna describes the next generation like this: "Mosaics and Busters have come to expect experiences that appear unscripted and interactive, that allow them to be open and honest with their questions, that are technologically stimulating, that are done alongside peers and within trusted relationships, and that give them the chance to be creative and visual." He believes that connecting with young people has always been a challenge, but today that struggle is at a much deeper level.
"It's a completely different set of values based upon a very varied interpretation of the meaning of life and how to achieve success or significance in one's life," said Barna in an interview. "They want spirituality; they want faith experiences; they want a taste of religion; but they don't want to have to go through all of the stuff that they see the adults doing at the typical church. But, because the Internet fits with their schedule—it's a 24/7 opportunity—they're using it to explore things they might not have access to otherwise."
Employing the Next Generation Worker
For the last fifteen years I have devoted my life to helping Christians see that their working lives are not simply a place to collect a check, but a holy calling from God to reflect His glory and influence culture. I was delighted to come across Gabe Lyon's book The Next Christians. He describes a new type of follower of Jesus that engages the culture in ways my generation has avoided. They are not as evangelistic in their approach to cultural influence and are more open to building relationships within the secular channels of society, even the most liberal and un-Christian segments. And they see their work as a calling! Yeah, God!
The next Christians view every corner of society as "in play." They may not overtly use their platforms to evangelize, but the redemptive elements of their work are unmistakable. They've checked their moralizing stick at the door but embrace the opportunity to naturally infuse faith into their businesses. If the conversations arise, they are thrilled to have them, but that isn't the only way they can be faithful. They understand that where they work is oftentimes the place God has called them to let his restoration flood the world.
Debbie Farah is a first-generation Palestinian Christian founder and CEO of Bajalia Trading Company, an import business that uses trade, training, and other forms of community development to alleviate poverty and empower low-income people in third-world nations. Debbie's professional background reads like a who's who in corporate Fortune 500 marketing and retail. She has worked with high-profile clients like Neiman Marcus, Ritz Carlton, Coca-Cola, and even the US Army in her career as creative director in large ad agencies. Debbie saw the plight of the poor in these third-world nations and decided to do something about it. She is a change agent who is using her professional career knowledge and expertise to help the poor use their skills to earn a living by creating products for Debbie's import business. Debbie's nine-person company employs only under-thirty next gens. She has learned that there are unique characteristics of this next generation that must be recognized if we are to help them become change agents. She has also learned that the older generation must learn from this generation as well.
Have something to say about this article? Leave your comment via Facebook below!
advertise with us
Example: "Gen 1:1" "John 3" "Moses" "trust"
Advanced Search
Listen to Your Favorite Pastors