Is Working from Home for You?
Glynnis Whitwer, Author, Work @ Home
Thursday, December 08, 2011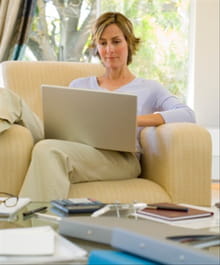 In the fall of 2005, my husband and I adopted two little sisters, Cathrine and Ruth, from Liberia, Africa. This wonderful happening came at the end of a wild year, which included the launch of two home-based businesses, my husband's transition home, and my first book contract.
As I consider that year, I'm convinced those happenings were connected with our more flexible schedules and our openness to be used by God in all areas of our lives.
Adoption is a long and laborious process. You hurry and fill out all the paperwork, then wait for months while it seems nothing is happening. Then, one day you receive a phone call announcing your daughters know they have been chosen for adoption and you can come get them in two weeks.
My husband and I stared mutely at each other and in 60 seconds decided that he would go. Those next two weeks were a whirlwind as we applied for Tod's visa, he got a physical and the necessary shots, and I tried to finish the girls' bedroom and guess at their clothing sizes. Two weeks later he flew to Africa and spent nine days there with the girls acquiring their American visas. My husband brought home two beautiful children, but left a piece of his heart in Africa. While there, God planted a vision in Tod to start a nonprofit organization to raise funds for the orphanage. Tod will return to help build those precious children a school. This is a personal passion because Cathrine and Ruth had never even held a pencil before they came to us, and had never set foot in a school.
This missions work is easier because Tod is an entrepreneur who works from home. I know this might scare some of you who fear God might send you to Africa someday. If God does, trust me, you'll want to go. I tell you this story because when you offer your employment, your time, and your energy to God, prepare to be used. So many women and men who work from home find they are able to pursue more of God's kingdom work in their neighborhood, city, state, country, and world.
What an exciting by-product of working at home! But perhaps it's not a by-product after all. It's very possible that God is calling you to work at home primarily because He's got something else for you to do. Just consider it . . .
You'll experience an exciting opportunity for personal growth.
After a recent rain, I noticed the standing water in a garbage can had begun to smell. The stagnant water proved to be a breeding ground for all sorts of unpleasant beasties who enjoy that mucky environment. That can needed a blast of clean hose water to rinse away the foulness.
Anything stagnant for too long needs to be freshened up, and that includes personal growth. Working from home can open doors of opportunities to expand your knowledge, experience, and develop your strengths and character. Instead of moving from one status quo to another, consider this as a time of intentional personal growth.
You can grow in many different areas. When my friend Lynda started working from home, she read books about being a successful entrepreneur. She learned theories that changed her thinking about money and investments. She embraced teachings on leadership and leveraging your assets. Lynda's dedication to personal growth transformed her life and the lives of her daughters. Lynda continues to pursue growth and it shows in her success.
In an article entitled "Personal Growth," in his enewsletter Leadership Wired, John C. Maxwell, one of the nation's experts on leadership, says this: "I realized that to grow like I wanted, my personal development couldn't be hit-and-miss. I needed to initiate and activate. I made a decision to devote myself to personal growth. I literally made personal growth my personal mission."
In what area do you want to grow? Is it better time management? Organization? Do you want a broader knowledge of business practices? Marketing? Character development? Do you want deeper relationships? Leadership skills? Embrace this God-given chance and commit to growing in one or more areas.
Have something to say about this article? Leave your comment via Facebook below!
advertise with us
Example: "Gen 1:1" "John 3" "Moses" "trust"
Advanced Search
Listen to Your Favorite Pastors