Is Your Career an Extension of the Church?
Os Hillman, President, Marketplace Leaders
Tuesday, August 13, 2013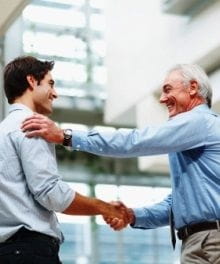 Editor's note: This is the second of a two-part series on the church's influence on culture. Read part one here.
Are we Warriors or Tourists?
The local church should be a Holy Spirit–training outpost for equipping God's people to be kingdom warriors of love and servant-hood on earth and to destroy the works of darkness. Instead, the local church is often operating more like a cruise ship instead of a battleship designed to equip an army.
I first met pastor Fred Hartley about five years ago when I was invited to be on a city transformation leadership team in Atlanta. Fred pastors a midsize congregation in a suburb of Atlanta and is also the founder of the College ofPrayer, an international equipping ministry. Fred has written several books on prayer. Fred knew little about my work, but as we began getting to know one another, he took more of an interest in what I did. I shared a few of my books with him, but it was almost two years before Fred caught what I was doing and how it could impact his own local congregation. He wrote me this letter:
Dear Os,
I had the most amazing experience in church on Sunday. I wish you could have been here. Let me explain. During this last module of the College of Prayer, I was convicted as Vanessa Battle was teaching on marketplace ministry and my lack of prayer support for our marketplace leaders.
During worship, I sat the people down and confessed that while I had recruited over 150 prayer partners for myself, I failed to pray for them in their marketplace, though their prayers are equally as valid as my own.
I asked them to write their name on a piece of paper and underneath that to put down their employer and their position. Then I asked them to write down the name of their boss and the CEO of their company so I could pray for those in authority over them as well as praying for their marketplace.
You would have not have believed the response. It was overwhelming!
Our people flocked forward with their slips of paper. When I then led in prayer for everyone who responded, the place erupted in applause.
Our people are praying people, but they have never responded like that before. When I asked God to tear down the dividing wall between the sacred and the secular and led us in a prayer to declare our marketplace holy to God, the place just about erupted. I sensed the pleasure of God in the moment at a very profound level. The people felt validated! I told them we are going to take the nine-to-five window, as Os Hillman describes.
Thanks for being a good example to me, Os.
—Pastor Fred Hartley
Lilburn Alliance Church, Atlanta, Georgia
Many church members simply do not feel validated for the work they do five days a week. They often feel like second-class citizens. One schoolteacher commented, "I was called up to the front to the church to commission me as the teacher for the school-age children for the year. Later I wondered why I have never been recognized for teaching kids five days a week as a ministry."
A Church Growth Expert Recognizes a Movement
C. Peter Wagner has been watching movements in the church for more than fifty years. A former seminary professor and church growth expert, Wagner now leads the Wagner Leadership Institute and Global Harvest Ministries in Colorado Springs, Colorado. He also heads up the International Coalition of Apostles. He began watching the faith at work movement in the late nineties and saw that it was an important move of God that he felt was impacting the church at large and the local church. He began to draw a distinction between two types of churches—the nuclear church and the extended church.
Have something to say about this article? Leave your comment via Facebook below!
advertise with us
Example: "Gen 1:1" "John 3" "Moses" "trust"
Advanced Search
Listen to Your Favorite Pastors