Is Your Career an Extension of the Church?
Os Hillman, President, Marketplace Leaders
Tuesday, August 13, 2013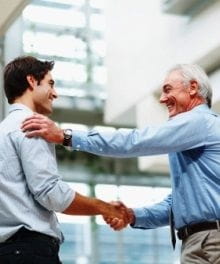 He explains it this way: "Biblically, the word for church, ekklesia, means, 'the people of God.' God's people are the church, not only on Sunday when they gather together for worship and teaching (the nuclear church), but also on the other six days when they find themselves in the workplace (the extended church)." Wagner indicates that it has become increasingly clear that not only do these two forms of the church really exist, and that each is truly the biblical church, but also that they are quite different from each other, despite the fact that they contain largely the same people.
While simply acknowledging that there is a difference might seem rather innocuous, he states that the situation becomes more complex when we begin to explore the breadth of the gap between the nuclear church and the extended church. Wagner pointed to some respectable research that revealed the gap turns out to be much larger than most people might think. He says, "The nuclear church and the extended church each has a distinct culture, and each culture, as cultures do, operates according to its own rule book."
Most extended church leaders understand both rule books, because they not only function in the workplace but are also active in a local church. However, Wagner pointed out that most nuclear church leaders understand only one rule book. He stated, "This can and does cause some of them to feel very uncomfortable with the notion that their own members customarily function, behind their backs, in a different church with different behavior patterns six days a week."
Wagner believes that it should go without saying that God's desire in this new season of the faith and work movement is that all His people move forward in harmony. It would be a severe setback to the kingdom of God if nuclear church leaders decided to condemn the rule book of the extended church for whatever reason and thereby widen the gap.
What Happens When Church Members Feel Validated and Affirmed?
Many times church leaders feel that if church members have a ministry outside the four walls of the local church, there will be a decrease in volunteerism, giving, and general support for the local congregation. That has proven to be false; it actually is the exact opposite. Giving increases and volunteerism increases, because the member, for the first time in his or her life, feels validated by the leadership for his or her specific calling. This validation draws members to a greater commitment to the local church, because it is serving them where they most need it—in their work life call. Churches need to consider that every member is a potential change agent in the making and recognize the privilege that church has to invest in their lives.
Several years ago we introduced an equipping tool for churches, marketplace ministries, and businesses. We call it our TGIF Co-branding Program. We found that men and women love my TGIF: Today God Is First devotional. So what we decided to do was create a version of TGIF that organizations could use to build their own subscriber list using TGIF and brand it with their name on it. They totally control the subscribers. We added an article content website with articles on twenty-four different subjects men and women deal with daily in the workplace. We also branded that site with the organization's name. We added our affiliate bookstore, TGIFBookstore.com, to allow the organization to earn money from a branded store.
TGIF Co-branding Program has been very effective as a support to what the local church or other organization might want to do to better equip men and women in the workplace. It frees the local church pastors from having to know everything about workplace topics, and gives their members a resource to get more in-depth teaching on various subjects related to their work life calling.
Equip Change Agents
Have something to say about this article? Leave your comment via Facebook below!
advertise with us
Example: "Gen 1:1" "John 3" "Moses" "trust"
Advanced Search
Listen to Your Favorite Pastors