Mother Teresa: Become 'A Pencil in God's Hand'
Mary Poplin, Author, Finding Calcutta
Thursday, February 19, 2009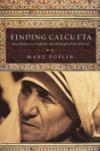 Editor's Note: In 1996, Professor Mary Poplin traveled to India to work with Mother Theresa and the Missionaries of Charity. Finding Calcutta: What Mother Teresa Taught Me about Meaningful Work and Service is a memoir of her summer with the sisters -- how they deepened her relationship with God and helped her discern her own calling back in the U.S. Here's an excerpt of Chapter 3.
I always tried to get to Mass a little early so I could sit near Mother Teresa's stool. I think I was hoping that some of her spirit would rub off on me.
One morning during Mass, a well-dressed Indian woman rushed in and threw herself at Mother's feet. She began to bow to her and kiss her hands and feet. Mother Teresa's face became stern and she pointed to the crucifix on the wall directly across the room. At first I thought she was motioning that the Mass was in session and that the woman should be more reverent. But the woman continued her adulation.
Then I saw Mother take the woman's hands in hers and point them to the crucifix. She said something in a language I did not understand and then firmly in English, "It is not me, it is him. Give your thanks to him." The woman stopped, looked up, looked at Mother, looked at the cross, sat still for several minutes and then left.
Mother Teresa often referred to herself as "a pencil in God's hand." She believed that everything she was able to do was done by God's power working through her. Many people perceive Mother Teresa as someone who looked out at the poor and responded to their suffering with her own kindness, love and energy. This is not at all how Mother saw her calling. When anyone complimented Mother, she would always say, "It is him, his work." She meant this literally—God did the work through her.
For most of the twenty years prior to her work with the poor, Mother Teresa taught at a wealthy girl's school in Calcutta run by the sisters of Our Lady of Loreto, an order she had joined at eighteen.
On September 10, 1946, at the age of 36, during a train ride to Darjeeling for her annual retreat, she heard the voice of Jesus calling her to leave the order and gather Indian sisters who would radiate his love to the poorest of the poor, the sick, the dying and the street children. This same voice repeated itself over the next several months. Mother rarely spoke of these experiences except to a few confessors and direct superiors.1
After almost two years of working with her superiors and various ecclesiastical authorities, she successfully acquired permission to leave the order and work in the streets. On August 17, 1948, she set out alone with five rupees to receive medical training. On December 21 of that same year, she walked into the slums. It was not until October 7, 1950, that the Missionaries of Charity were officially established.
She wrote in her journal about her first day on the streets in December 1948:
What dirt and misery — what poverty and suffering. — I spoke very, very little, I just did some washing of sores, and dressings, gave medicine to some. — The old man lying on the street — not wanted — all alone just sick and dying — I gave him carborsone and water to drink and the old man was so strangely grateful. . . . Then we went to Taltala Bazaar, and there was a very poor woman dying I think of starvation more than TB.
What poverty. What actual suffering. I gave something that will help her to sleep — but the woman longs to have some care . . . confession and holy Communion. — I felt my own poverty there too — for I had nothing to give that poor woman — I did everything I could but if I had been able to give her a hot cup of milk or something like that, her cold body would have got some life — I must try and be somewhere close to the people where I could easily get at things.2
Once when a reporter asked Mother to describe her life, she began with her childhood in Skopje, Albania. Then she explained her move to join the Loreto sisters in Ireland, her transition to India a year later and her life as a sister of Loreto. As she related the shift to serve the poor, she stopped and said, "And that was the end of my life."
Have something to say about this article? Leave your comment via Facebook below!
advertise with us
Example: "Gen 1:1" "John 3" "Moses" "trust"
Advanced Search
Listen to Your Favorite Pastors