Mother Teresa: Become 'A Pencil in God's Hand'
Mary Poplin, Author, Finding Calcutta
Thursday, February 19, 2009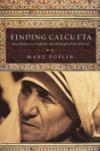 Muggeridge says, "It was the end of her biography and the beginning of her life."3
She believed the Missionaries were only able to do the work they do by the power, love and mercy of God. I came to understand why this must be true.
Most social workers—like me in my early adult years — move in and out of private middle class lives to serve the poor, generally receiving payment for the work. By contrast, the Missionaries live the lives of the poor.
Their everyday routine is feeding, cleaning and tending the sick, the dying, and the poorest of the poor — with no salary. No abstract system of food stamps or special programs supplement their efforts.
To me, the work would have soon become boring, physically grueling and even discouraging, but not for them. Mother Teresa said, "A Christian is a tabernacle of the living God." That is the way they saw their work—as him "dwelling in them."4
She also said, "I wouldn't touch a leper for a thousand pounds; yet I willingly care for him for the love of God."5
Father John Bettuolucci alludes to the distinction between social work and religious work when he writes:
"Social action without prayer and conversion to the Lord lacks power and the ability to produce long-lasting change in the socio-economic conditions of the poor. Likewise prayer and evangelism without social action leads to pietistic withdrawal from the realities of the human condition and an escape from social problems rather than a confrontation and challenge to change."6
I thought of how differently I frame my life than these sisters even though I am a Christian. I forget that God wants to make his home with me, direct my steps and give me his power to do his will. I often think I chose my own work by my good sense and careful control of circumstances, rather than that God formed me for specific purposes. I flatter myself that it is out of my own goodness that I do things for others.
Nevertheless, when I am most honest, I confess that many of the "good" things I do are really as much or more for me than for those to whom they are given. I find it hard to live out what the apostle Paul said, "It is no longer I who live, but Christ who lives in me."7
Yet Mother's life reveals that the more yielded we are to God, the more clearly we will grasp our calling. The more we empty our focus on ourselves, the more he can fill us.
Mother Teresa said that "humility is nothing but the truth"8 and that accepting humiliation is "the surest way to be one with God . . . Humiliation because we know we have nothing in ourselves. You see what God has done. I think God is wanting to show His greatness by using our nothingness."9
Bernard of Clairvaux in the twelfth century wrote, "Humility is that virtue by which a man has a low opinion of himself because he knows himself well."10
I have come to understand that my lack of humility limits my life. My pride not only gives me the illusion that I am the master of my fate, but it also causes me to limit what I will attempt. Knowing my natural limitations, I narrow my work accordingly.
Yet Mother saw her "nothingness" and God's greatness, and in due course established a worldwide organization. She could say with Paul, "For this I toil, struggling with all his energy that he powerfully works within me."11
Mother Teresa's journey with Christ was a rigorous one that required a deep awareness of her own human frailty. One of her most fervent, lifelong prayers was that she would never say no to Jesus. Today her order, one of the most demanding in the Catholic church, is also one of the most vigorous. For the many that hunger for a disciplined, just and righteous life, Mother and the Missionaries demonstrate that such a life is possible.
Published February 20, 2009
---
Excerpted from
Finding Calcuatta: What Mother Teresa Taught Me about Meaningful Work and Service
by Mary Poplin (InterVarsity Press). (c) 2008 by Mary Poplin. Used by permission of InterVarsity Press, P.O. Box 1400, Downers Grove IL 60515-1426.
www.ivpress.com
.
Have something to say about this article? Leave your comment via Facebook below!
advertise with us
Example: "Gen 1:1" "John 3" "Moses" "trust"
Advanced Search
Listen to Your Favorite Pastors