Remembering to Show Gratitude for Answered Prayers
Steve Diggs, Personal Finance and Life-Skills Coach
Wednesday, June 01, 2011
My God is not some tool in the back of the closet of my life. He is not my cosmic bell-hop. God is God. He loves me and hopes that I will love him back.
As the years of my life have fallen away, I've become increasingly dedicated to what military people call debriefing. When a mission is completed it is SOP (that's Standard Operating Procedure for you non-military types) to re-think, re-live, re-evaluate, and re-examine. It is time to reassess and remember all that has happened. And it is time to give credit to whom credit is due. In some cases individuals receive medals and awards.
I believe that it is my privilege and my duty not to forget God when morning breaks and the sun begins to shine again. When God has brought me through a storm, it seems the least I should do is to honor him with intentionality. I need to return to that same spot on the floor that soaked my tears just yesterday as I pled with God to lend the help that only he could supply. I need to muster the same level of passion that I experienced during the crisis. But, this time, turn it into joyful, abundant, abandoned praise, worship, and thanks. We have great biblical precedent for this too. When God had blessed the Israelites' prayer for protection from their enemies, King David didn't return to the daily grind without praising God lavishly. "David…danced before the LORD with all his might…with shouts and the sound of trumpets... (When David's wife) Michal…saw King David leaping and dancing before the LORD, she despised him in
her heart…David said to Michal…'I will celebrate before the LORD. I will become even more undignified than this, and I will be humiliated in my own eyes.' And Michal…had no children to the day of her death. (2 Samuel: portions of verses 14-23, niv)
So the question is pretty easy. When God blesses me—do I want to end up like David (a man after God's own heart), or like Michal? The choice is mine.
Steve Diggs is best known for 2 internationally acclaimed seminars that he has presented at nearly 500 churches. Steve can be reached through either of the websites below, or call him at 615-300-8263.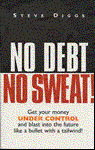 No Debt No Sweat! Christian Money Management Seminar teaches God's people how to use God's money God's way. More at www.NoDebtNoSweat.com.



ReTooled & ReFueled: The Essential Christian Life-Skills Seminar shows Christians how to live for the beautiful bye and bye—while dealing with the nasty now and now. More atwww.RetooledAndRefueled.com.
Have something to say about this article? Leave your comment via Facebook below!
Have something to say about this article? Leave your comment via Facebook below!
advertise with us
Example: "Gen 1:1" "John 3" "Moses" "trust"
Advanced Search
Listen to Your Favorite Pastors