Spirit of St. Louis: Christian Programs Aid the Unemployed
Angela Lu, WORLD Magazine
Wednesday, September 21, 2011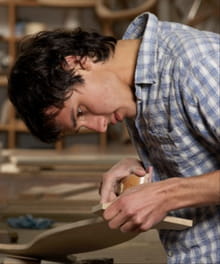 Almost 40 percent of the residents in the largely African-American neighborhood are poor. Only 60 percent have a high school diploma, and many of the high schools in the area have lost accreditation. The McGarrys had considered doing mission work in Bolivia but saw a greater need in their own backyard. Wellston, the fourth poorest city in Missouri, is just two miles from prestigious Washington University, but with crumbling houses and stretches of empty lots, it seems worlds away. At first Wellston residents saw the McGarrys as outsiders, but after they spent three years cleaning up the lot and moved into a nearby house with their children, the McGarrys became neighbors, not invaders.
In the back of the workshop, Keith Dorsay, one of the first graduates of the cabinet-making class in 2010, now works as a paid apprentice helping McGarry make custom furniture for customers. The income is used to support the program, which offers apprenticeships for all who complete the course. The goal is that with three to four years of experience, More Than Carpentry graduates can earn their journeyman certification and find jobs at other businesses.
Dorsay heard about the program while working to renovate the warehouse as a side job. McGarry noticed his diligence hanging up drywall and asked if he was interested in carpentry. "It's in my blood," Dorsay said—his grandfather and uncle were both carpenters. He learned during the past year that the work is hard but the payoff is worth it: "Seeing finished work ... it's such a feeling you get when you see it, you sit back and marvel at it."
For a mid-morning break, the new students gathered around a table in an adjacent classroom with Dorsay and the instructors to discuss their experience so far and expectations. Wesley Tyler, a quiet 20-something with dreadlocks, says he joined More Than Carpentry to make changes in the right direction: "This is more than a job, it's a new avenue—working with tools and wood and individual techniques, the Bible study, mentoring—it's good stuff." His routine has changed: "My personal life was crazy, but now I'm pretty boring. Now I'm home at 6 p.m. and I'm like 'What am I doing?' But I love it."
Titus Maclin, who has worked in construction for 10-15 years, wanted to get to the roots of carpentry. He's now learning about finishing wood but much more: "The spiritual aspect of [the class] grounds you, to the point where you know what it's like to stay prayed up. It feels like family, it's a family; we stick together and encourage one another." Joining the class was a big change for Maclin: "I'm no spring chicken anymore. My kids are at school, and now I'm coming back home to read a book—I never do that."
Tammy McGarry has learned that most residents of Wellston aren't familiar with the concept of hard work. She says many of the men in the area choose instead to make quick money selling drugs—sometimes thousands of dollars in just a few hours. Most don't have father figures in their lives to model hard work. Many have committed crimes and done jail time, and know that companies don't want to risk hiring an ex-felon. "They are filled with rejection and feeling like they can't contribute to society," Tammy said. "You gain dignity by supporting yourself."
An older woman in Wellston once told Tammy that all their men are either headed to the grave or to jail, with no dreams or goals for their future. McGarry tries to instill in these men a vision of what their life could be like. He took one class on a field trip to a local commercial cabinet-making business. It's now shown interest in hiring More Than Carpentry graduates.
Five miles south in St. Louis' Tower Grove neighborhood, 21-year-old Darren Jackson is trying to improve his part of the neighborhood. Currently the director of Jobs for Life with the Christian nonprofit Mission: St. Louis (MSTL), Jackson moved into the neighborhood and started striking up conversations with other young men on the street corner. The men quickly accepted him because "I look like them and we have a lot of the same background experience."
Have something to say about this article? Leave your comment via Facebook below!
advertise with us
Example: "Gen 1:1" "John 3" "Moses" "trust"
Advanced Search
Listen to Your Favorite Pastors