Spirit of St. Louis: Christian Programs Aid the Unemployed
Angela Lu, WORLD Magazine
Wednesday, September 21, 2011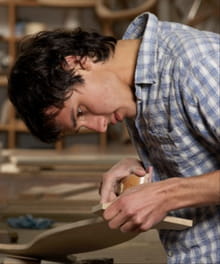 Jackson started a discipleship group that met at McDonald's on Thursdays. The group grew from two to 15 men who met weekly at MSTL executive director Josh Wilson's house, where they would open up about problems. But after a while more than half of them drifted away or slipped back to their old lifestyle. When Jackson asked why, they said that as much as they liked the group, they had more pressing needs—to eat, to support their kids, and to pay rent.
Jackson thought about starting a business to hire these men, but realized that wasn't a solution: "We realized, man, these dudes aren't employable, we would be serving them an injustice if we were to give them jobs. That's not empowering them."
Last spring he started a job-training program that created a support group for these men—mentors, instructors, and small groups that would be there for them even after the eight-week program finished. Jobs for Life helps them work through emotional roadblocks, teaches them "soft skills," and also prepares them to apply for jobs and attend interviews. Each class ends with a good news message—a Bible verse, video, spoken word, or testimony—that explains why the class exists.
Jobs for Life will be starting its third class this September, this time partnering with the board of probation and parole so that clients can choose Jobs for Life to fulfill their requirement of looking for a job after being released.
So far, none of the Jobs for Life students has graduated from the course, but two have been able to find jobs. Wilson says the age group Jobs for Life deals with—males between 17 and 25—is known for being "unreachable." He says they are "really lazy, they don't want to work. They haven't lived life long enough to figure out if they want to change it or not." Often, looking for a career instead of another quick fix is a huge cultural shift. Many drop out when difficulties develop. That's why support groups and relationships are so important, according to Jackson:
"This isn't just a program for you to get through. We live here, we are here all the time ... and we care about you."
Jarred Banks, a student of the second class, used his relationships in Jobs for Life to find a job. The soft-spoken 19-year-old dropped out of high school in 11th grade and had recently been laid off from his job at the St. Louis Science Center when he met Jackson on his block earlier this summer. Banks started coming to Jobs for Life, where he overcame his shyness, started connecting with his small group leader, Leonard Johnson, and gave up his former lifestyle because of a strict no drugs policy.
Banks' perspective: "I didn't really have to give nothing up but sitting down ... it was worth it, because before I'd be sitting down and broke, but now I'm talking and actually enjoying myself." Johnson, who owns a contracting construction business, hired Banks after seeing him make great strides in his first month in the program. Banks now works full-time gutting houses, painting, and doing other minor work. Johnson praises Banks as a hard worker and a fast learner. Banks sees Johnson as his "best friend" and says, "In the future I'll look back at myself and like, I actually accomplished something, because I never accomplished nothing."
The greatest help to the program has been the buy-in from local businesses, MSTL's Wilson said. A housing developer has come by the class, teaching students how to fill out applications. The owner of a used car lot has hired Jobs for Life men to detail cars, but has also fired them—rightly so, Wilson said. He believes sometimes the best way to love these men is to give them a realistic expectation of what the workforce demands.
Have something to say about this article? Leave your comment via Facebook below!
advertise with us
Example: "Gen 1:1" "John 3" "Moses" "trust"
Advanced Search
Listen to Your Favorite Pastors