The Christian Calling to Rescue Cultures – Prayer Warrior: U.S. Navy's Former Chief
Michael Lee Stallard, President, E Pluribus Partners
Thursday, August 23, 2012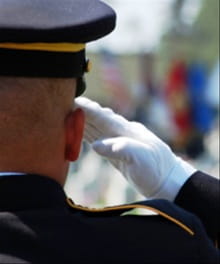 Editor's note: This is the fifth installment in a series of articles about Christians who rescue cultures. The first installment was The Servant; the second, The Courageous Coach; the third, Saving Our Kids; the fourth, Strength, Courage, Wisdom, and Guidance. We hope that through this series you will be persuaded of God's call for you to rescue the cultures you are in, that you will get ideas from the examples of others and that you will be encouraged to take action in rescuing the cultures around you.
Within hours of the terrorist attacks on September 11, 2001, U.S. Navy aircraft carriers, destroyers and cruisers were in place to protect America's shores. Naval leaders anticipated what had to be done and took action before they received orders. At the Pentagon in Washington, D.C., planning for America's response began while fires from the attack still smoldered nearby.
The rapid response of the U.S. Navy on September 11 was in part due to the culture led by Admiral Vern Clark who served as the U.S. Chief of Naval Operations (CNO) from 2000 until his retirement in 2005. The CNO is the principal naval adviser to the President and the Secretary of Defense on the conduct of war.
Prayer Warrior
Admiral Clark's father was a pastor who taught him the importance of regular prayer. Each morning throughout his career in the Navy, Vern Clark and his wife Connie went to the doorway of their home and wrapped their arms around one another. The Clarks prayed they would be sensitive to where the Lord was moving that day, and that they would be aligned with His will.
The Clarks were active in local church congregations in the cities where they served. Admiral Clark said his closest friends were from the church. One of the best periods in his life was when he attended 6:00 AM prayer meetings then headed off to work at a time when his job was especially demanding. Outside of work hours, Vern and Connie Clark regularly invited Navy families over to their home for meals and conversation. Their love for people, and especially for those who serve their country, compelled them to reach out rather than maintain a separation between their work and private lives.
Culture of Connection: Vision, Value and Voice
The Navy was not meeting its sailor retention goals when Admiral Clark assumed the CNO role. He made winning the war for talent the number one priority and promptly began developing a culture where sailors felt connected to the Navy.
To begin, Admiral Clark articulated a vision that made sailors feel proud to be in the Navy. He said the Navy's mission is to take the "war fighting readiness" of the United States to any corner of the world at a moment's notice and it was "our turn to make history" by "building a Navy for the 21st century" that would be "strategically and operationally agile, technologically and organizationally innovative, networked at every level, highly joint (with the other services), and effectively integrated with allies." He would tell them: "What we do matters. What we do is hard work. We intentionally put ourselves in harm's way. We are away from our loved ones for months on end. We do it because it's important and we are people of service. We are committed to something larger than ourselves: the protection of America's interests around the world and democracy."
Have something to say about this article? Leave your comment via Facebook below!
advertise with us
Example: "Gen 1:1" "John 3" "Moses" "trust"
Advanced Search
Listen to Your Favorite Pastors